Students shine at the 17th Challenge Cup
CUHK students recently performed outstandingly to win the Top Prize for the first time at the 17th 'Challenge Cup' National College Students' Extracurricular Academic Science and Technology Contest (Challenge Cup). CUHK was the one and only Hong Kong university to win both the Top and First Prizes. In addition, it bagged one second-class award and two third-class awards, making it top among local universities in terms of the number of prizes received.
Organized biennially by multiple national ministries, including the committee of the Communist Youth League of China, China Association for Science and Technology, and Ministry of Education, the Challenge Cup is famed as the Olympics of promoting science, technology and innovation among university students in China. Nearly 22,000 projects from 2,500 higher educational institutions across the nation participated in this year's competition.
Brief introduction of the Top and First Prizes projects are as follows:
Top Prize
Miniaturized Robotic Steerable Surgical Drill for Confined-Space Bone Work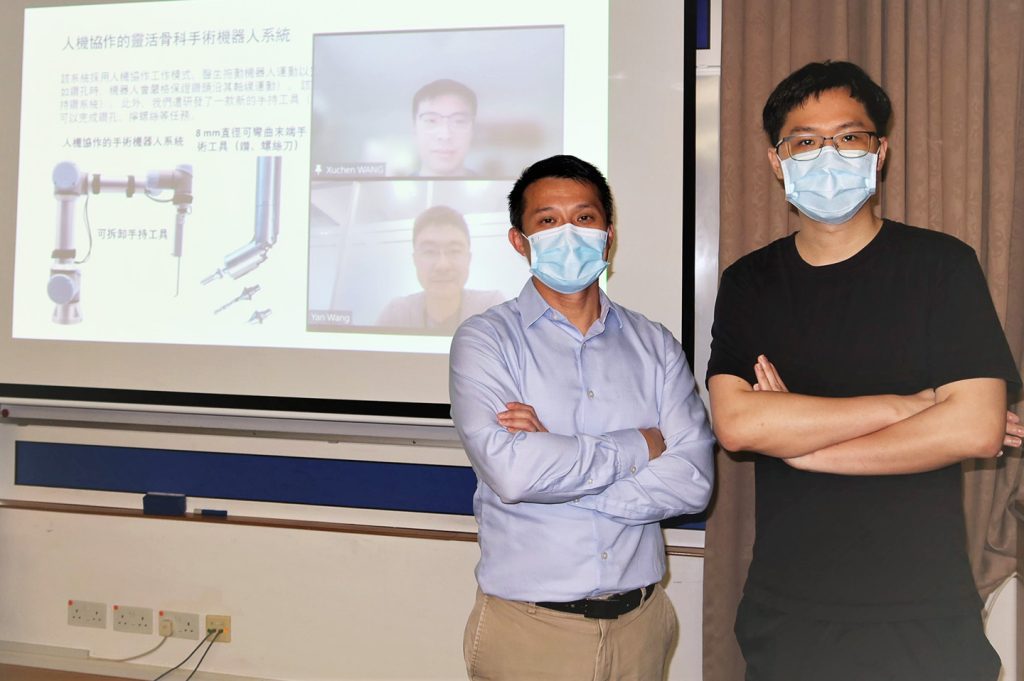 Wang Yan (bottom on the screen), Lin Hongbin (right), and Wang Xuchen (top on the screen), PhD students from the Department of Mechanical and Automation Engineering (MAE), supervised by Prof. Samuel Au Kwok-wai (left) of the same Department, developed a miniaturized steerable surgical drill for bone work in a confined space. The miniature size of the tip at 4.5 mm in diameter and the large distal bending angle of 65° allow it to reach target surgical sites through small incisions while steering around anatomical corners. That reduces intraoperative damage to patients, shortens hospitalization and recovery times, and lowers the risk of complications. The team integrated the drill into lightweight, easy-to-use, handheld devices for precise, dexterous surgical operation. The handheld devices can also be mounted on a robotic arm to conduct robotic-assisted surgery for higher surgical precision. The surgical robotic system works in a human-robot shared control mode, allowing surgeons to move the surgical tools by dragging the robot arm under the guidance of the robot safely and precisely. Cadaver studies showed that the proposed devices have the potential to minimize intraoperative tissue damage in many confined-space surgical procedures, including transnasal transsphenoidal pituitary surgery and transoral mandibular fracture internal fixation surgery.
First Prize
Development of a Novel Neutrophil-based Anticancer Immunotherapy: S3KO-TAN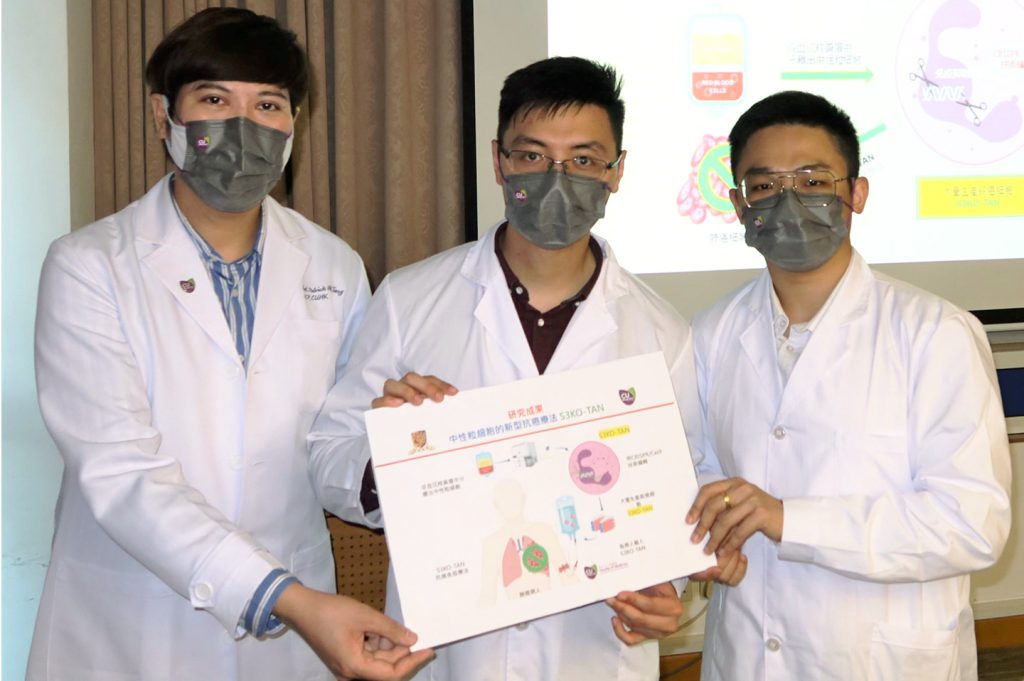 Cancer is one of the leading causes of death because cancer cells are so highly versatile that they easily develop drug resistance to conventional therapy. Host immunity plays a vital role against blood cancer, but less than 30% of lung cancer patients show a distinctive response to the latest immunotherapy. In response, PhD students Jeff Chung Yat-fai (centre) and Max Chan Kam-kwan (right) from the Department of Anatomical and Cellular Pathology, supervised by Prof. Patrick Tang Ming-kuen (left) of the Department, have successfully developed a novel anticancer immunotherapy in which they genetically engineer the most abundant immune cell type in our blood–neutrophils.
In this invention, a novel anticancer immunotherapeutic cell type S3KO-TAN can be mass produced by genetic editing human neutrophils with the latest genome engineering technology, CRISPR/Cas9. Neutrophils are suitable for allogenic use without antigen pairing and can be easily obtained from blood by-products, overcoming the unsolved barriers of T-cell immunotherapy. The study is supported by Hong Kong Research Grants Council, State Key Laboratory of Translational Oncology and CU Medicine Faculty Innovation Award. The research team hopes to translate S3KO-TAN into an effective and safe anticancer immunotherapy in the future.