Our mission for future talent
CUHK formally launches flagship co-operative education programme
In the largest face-to-face event since the recent easing of social distancing measures, the University formally launched its new co-operative education programme (Co-op@CUHK) to an audience of industry partners, dignitaries, staff and students at a special event on 18 May 2022.
The co-op programme was established in 2021 as a flagship work integrated learning initiative designed to bridge the gap between classroom learning and the demands of the 21st century workplace.
Reflecting on the co-op's journey from ideation to execution, CUHK's Vice-Chancellor and President Professor Rocky S. Tuan said the scheme was 'stimulated by some highly successful co-operative education programmes in world leading universities.' Professor Tuan said CUHK considered the unique needs of our students and the needs of local businesses to 'design a distinctive programme that differentiates itself from other internships and work-study experiences already available.'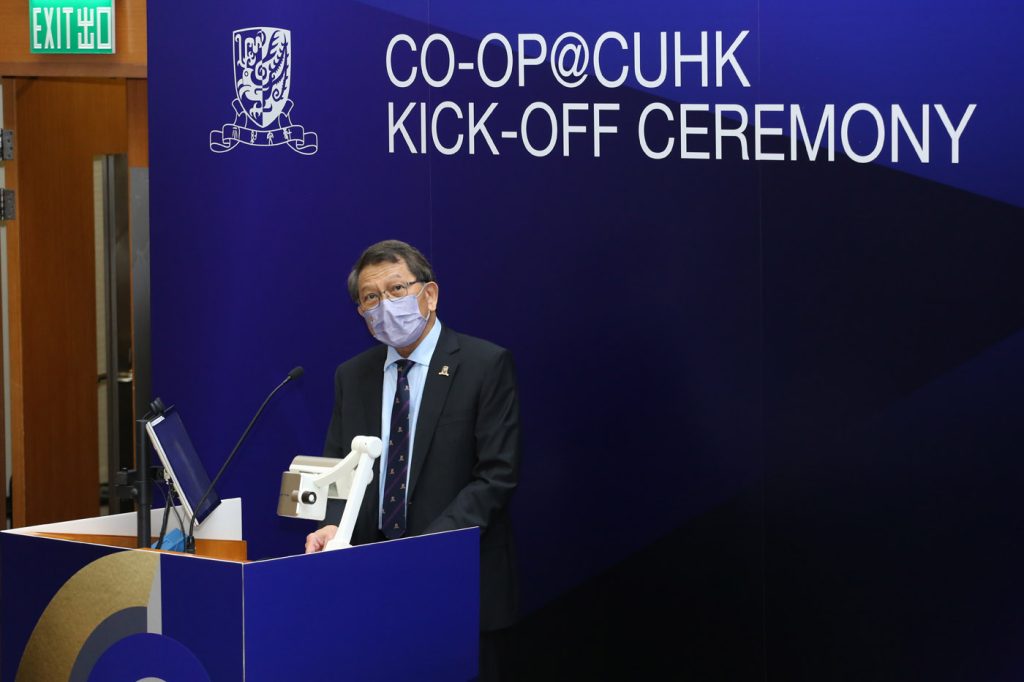 The first of its kind in Hong Kong, Co-op@CUHK is open to students in the penultimate and final-year of their degrees. Students are required to have a good academic standing, a track record of extra-curricular activities to ensure they have a can-do attitude and bring out of the box thinking. The programme is scaffolded by two preparatory courses undertaken across a semester and a wide range of intensive training activities before students undertake a paid, full-time six to eight-month work placement.
'We hope Co-op@CUHK will meaningfully integrate university education and workplace experiences to deliver a pipeline of career-ready talent', says CUHK's Pro-Vice-Chancellor (Education) Professor Isabella Wai-yin Poon. Professor Poon emphasised that employers will benefit from an injection of fresh talent, while students will gain workplace experience that will be invaluable as they commence their careers.
Responsible for spearheading CUHK's industry engagement strategy and getting employers excited about the programme, Associate Vice-President (Innovation and Enterprise) Professor Daniel Lee said 'our students will become important assets for future employers by bringing in innovative new ideas and perspectives to help develop new business models and think about new markets'.
Since opening for applications last September, Co-op@CUHK has secured strong support from Faculties and over 100 students have joined the first intake. Importantly, over 60 corporate partners from a wide range of sectors have signed on to the scheme.
Looking ahead, CUHK will expand the programme in both the Guangdong-Hong Kong-Macao Greater Bay Area (GBA) and the global market.
In his keynote address at the kick-off ceremony, InvestHK's Director-General Stephen Philips stressed how important it is for young people to gain experience in the GBA saying that time spent in the world's 11th largest economy would enhance 'young people's marketability, giving them comparative strengths in developing their careers'. The Hong Kong government's investment promotion agency has a mandate to attract talent to the Special Administrative Region, and Mr Philips believes that talent is the secret to differentiating successful companies and said that InvestHK is 'eager to work with co-op students from CUHK and gaining their new insights'.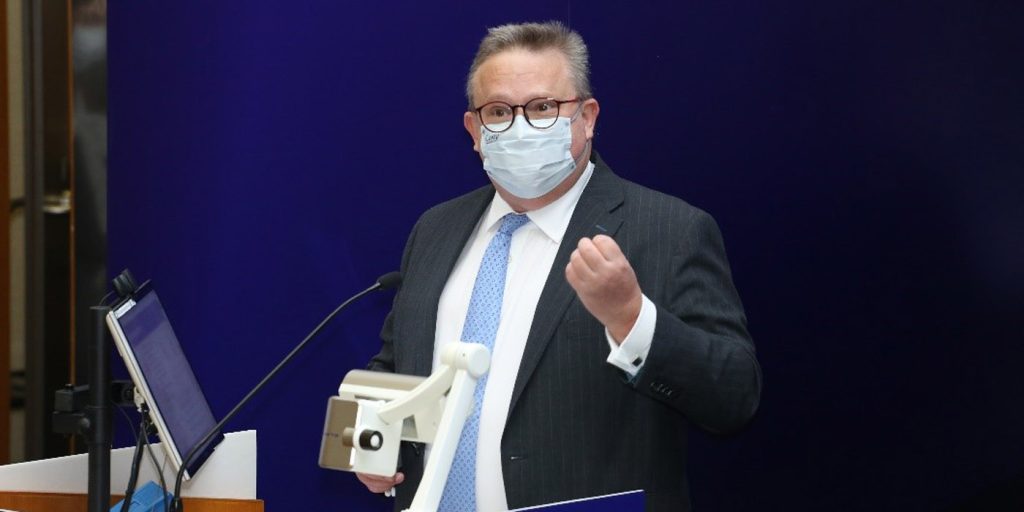 Co-op@CUHK's Director Dr John Lai said that 'the industry response so far has indeed exceeded our expectations, and our students have been busily preparing for their placements and we can't wait to see what they achieve'.
In true CUHK style, arts and culture with a fusion of east and west featured at the ceremony with co-op students treating guests to a Bach string quartet, a classical Chinese guzheng duet, and a modern K-pop dance.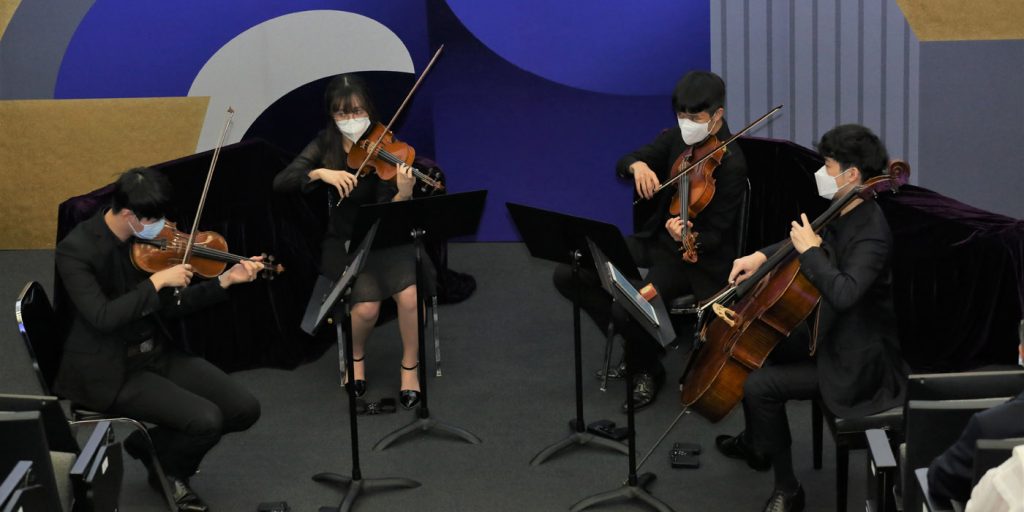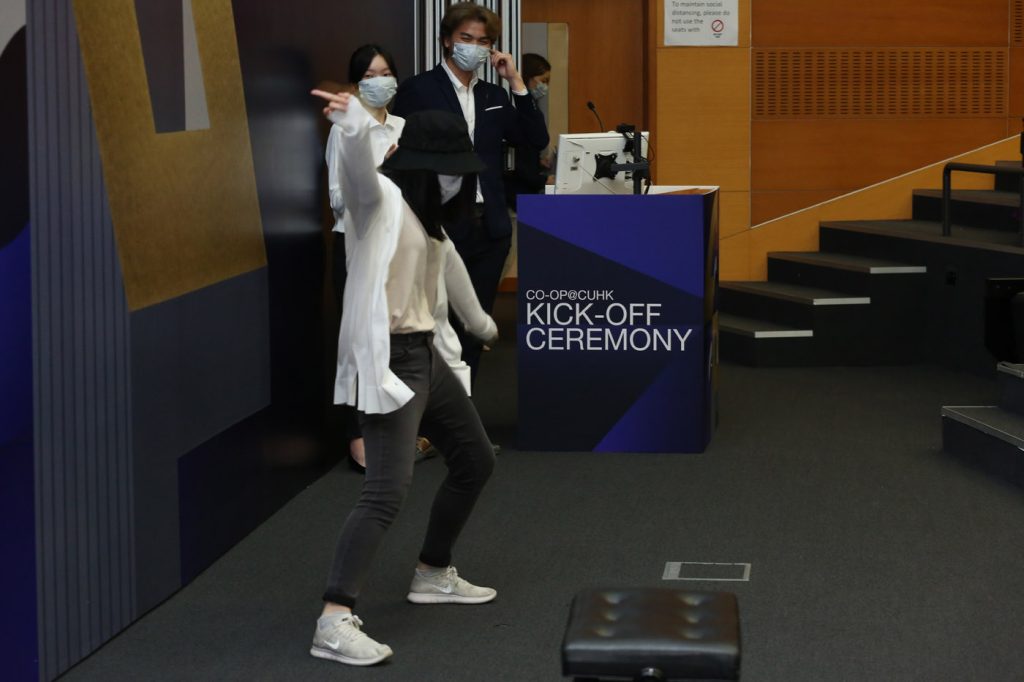 Co-op students spoke passionately about what the programme means for their own journeys of whole-person development, cultivation and getting ready for the workplace.
Third year Integrated BBA student Edward Lee said he joined the programme because he was anxious about the transition to the workplace, and that he is confident to make the leap to his work placement saying that the 'well-structured courses and activities have taught us a lot about important workplace communications and skills'.
Trix Zhang, a fourth year Risk Management Science student reflected on the value of the industry and peer networks created by her experience so far saying she 'couldn't have imagined making such a strong bond with my fellow students'.
Watch this video to know more about Co-op@CUHK
Closing the event, CUHK's Provost Professor Alan K.L. Chan appealed to students to look at the Chinese concepts of both respect and delight for work, saying this was the 'key to fostering a positive work culture and creating an environment conducive to personal development and a more productive and cohesive community'.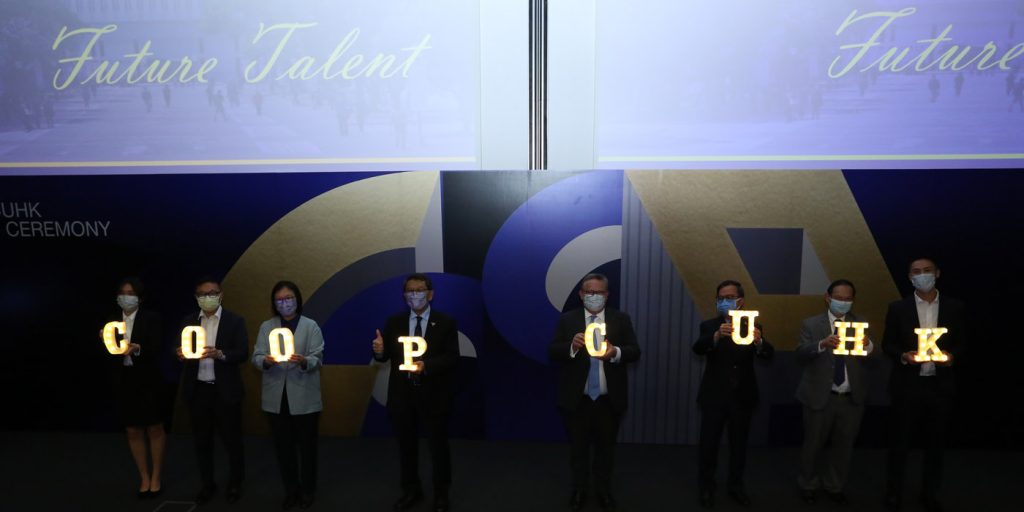 Before leaving the ceremony, guests were surprised to hear the entire first cohort sing a special rendition of the 1980s hit classic Nothing's Gonna Stop Us Now, with students cleverly inserting the lyrics 'we are all C-O-O-P students with courage and passion – and nothing's gonna stop us now'. And CUHK in Focus suspects nothing will too.
Photo courtesy of The Office of Co-operative Education Programme