New foothold in Yangtze River delta
CUHK sets up new centre to drive innovation and partnerships in mainland megacity
On the heels of the 25th anniversary of Hong Kong's return to China, the University has signed an agreement with the Shanghai local government to set up an academic and innovation centre in Shanghai's Yangpu district, the first such pact made by a Hong Kong university with Shanghai district authorities. The signing ceremony took place on 4 July, with the framework agreement signed by CUHK's Vice-Chancellor Rocky Tuan and Shanghai Yangpu Technology and Innovation Group's chairman Zheng Yuexiao. Vice-Mayor Chen Qun and Yangpu district party secretary Xie Jiangang unveiled the Centre's plaque.
"Establishing CUHK's Shanghai Centre in the district is a key element of the University's development plan on the mainland," said Tuan. "On top of supporting the integrated development of the Yangtze delta, it will foster innovative and professional talent development, scientific and technological collaboration, and academic exchange.
"Leveraging both cities' resources, the Centre will work with Yangpu district to curate innovative talent training programmes and provide an exchange platform for entrepreneurs, scholars and students from both places. Government, colleges and enterprises are sure to benefit."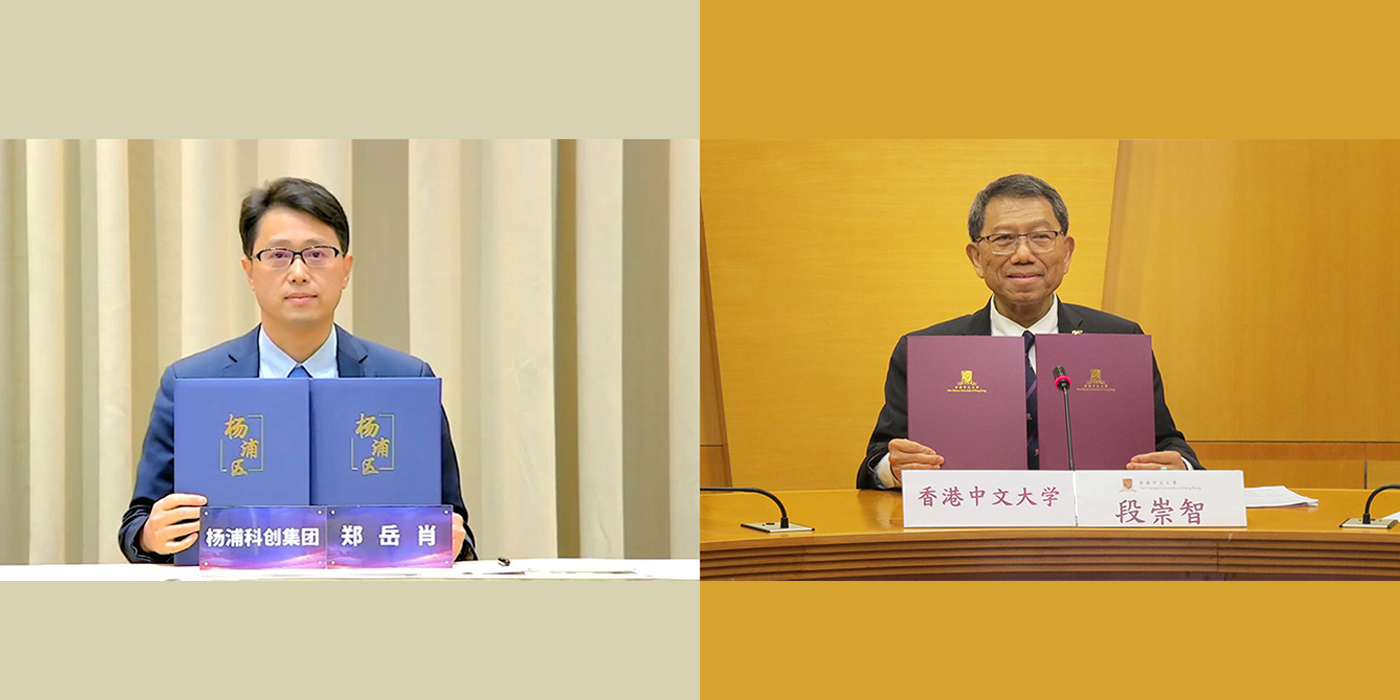 CUHK has been proactive in building links with the mainland. Since 1997, it has collaborated with increasing frequency with institutions in Shanghai, partnering with Fudan and Shanghai Jiao Tong Universities to found research institutes, carry out scientific research, develop joint programmes, and host scholar and student exchanges. In 2021, in partnership with SenseTime, the University and the Shanghai Artificial Intelligence Laboratory set up the CUHK Artificial Intelligence and Interdisciplinary Research Institute to break new ground in AI. To align with the goals of the national five-year plan to integrate Hong Kong and Macao into national development, CUHK is working with the city of Shanghai to establish an academic and innovation centre in Yangpu.
Housed in Shanghai Penta Innovation and Entrepreneurship Institute, Yangpu's university hub, the Centre is set to open by early 2023 and will be a focal point for academic conferences, forums, innovation and entrepreneurial activities. It will help CUHK forge closer ties with colleges and enterprises on the mainland, facilitate cross-disciplinary research, and be a haven and meeting place for alumni in Shanghai and the Yangtze delta.