Doctor of Laws, honoris causa
Professor Hao Ping obtained his PhD degree in international relations at Peking University (PKU). He has served as president of Beijing Foreign Studies University, Vice Minister of the Ministry of Education, Director of the National Commission for the United Nations Educational, Scientific and Cultural Organisation (UNESCO), Vice-Chairman of the Red Cross Society of China, and President of PKU. He is currently Secretary of the CPC Peking University Committee and Chair of the University Council, Alternate Member of the 19th Central Committee, and Member of the 11th CPPCC. In 2013, he was elected president of the 37th session of the General Conference of UNESCO, the first ever Chinese to hold the position.
With a research interest in the history of Sino-US relations and history of modern China, Professor Hao has published three books, including Peking University and the Origins of Higher Education in China, Sun Yat-sen and America, and John Leighton Stuart and China.
Professor Hao has actively promoted the collaborative programmes and expanded new fields between Peking University and CUHK. For example, in 2019, the two universities signed a co-operation agreement on double degree programmes to jointly cultivate talents in Chinese language and literature, linguistics, financial sciences and other majors to promote exchanges and cooperation.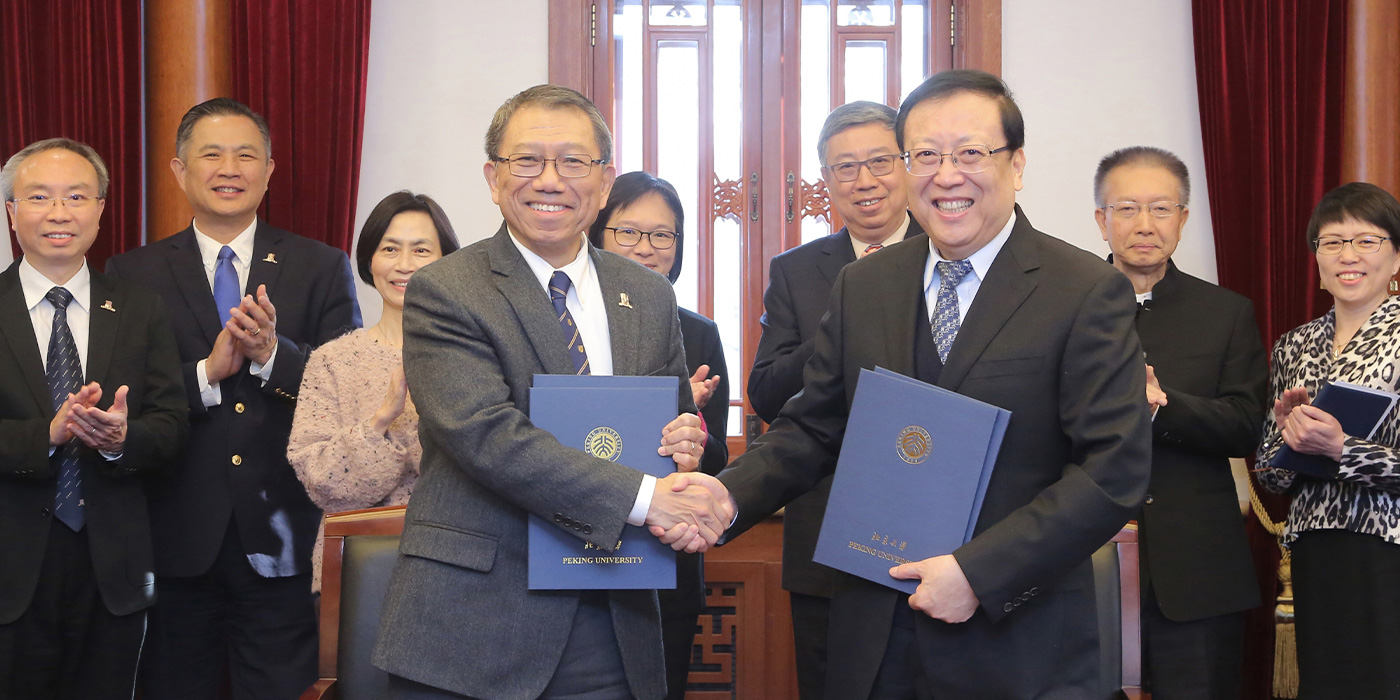 Professor Hao was awarded the degree of Doctor of Laws, honoris causa by CUHK this year. Below is his written reply to CUHK in Focus:
Q: It is CUHK's mission to serve the needs and enhance the well-being of the citizens of Hong Kong, China as a whole, and the wider world community. With your experience in the Ministry of Education and UNESCO, what do you think CUHK and other Hong Kong universities can do in this regard?
A: The world today is undergoing major changes unseen in a century, and China has always insisted on promoting a higher level of opening up. During my work at UNESCO, I, on behalf of the Chinese government, have always advocated the concept of cultural diversity and sustainable development. In this new era, Hong Kong universities such as CUHK should, based on the diverse cultural background of Hong Kong, play a role as a window for the opening up of Chinese culture and a bridge for the exchanges of world cultures, work with Peking University and other mainland universities to continue to promote the traditional Chinese culture, promote exchanges and cooperation for academic communities between China and the world, and further spread Chinese culture and China's voices and stories through educational and academic endeavours to enhance mutual exchange and learning among civilisations, promote the harmony and common prosperity of civilisations, and contribute to the building a community with a shared future for mankind through the strength of higher education.
Q: CUHK and Peking University have jointly held double-degree courses. What expectations do you have regarding the further collaboration between PKU and CUHK?
A: Ever since PKU and CUHK signed the academic exchange agreement in 1985, the two universities have gradually formed a multi-level, multi-field and multi-form exchange mechanism over the past 30 years, forging close ties in areas such as joint education programmes and joint research for national high-tech projects. One case in point is the Key Laboratory of High Confidence Software Technologies under the Ministry of Education, jointly built by the two parties, which has made remarkable achievements. In the future, both institutions will further align to national strategies, aim at the global forefront of science and technology, dispatch experts and scholars to each other's campus for academic exchanges and scientific research, explore new collaborative models via a coordinated promotion of organised scientific research, pool the intelligence of all parties, form joint forces of innovation, and work together to make new contributions to promoting national development and solving common problems facing mankind.
Q: In a speech in 2020, you said that universities should hold up the humanistic spirit in the pandemic and stand up to its mission in the post-pandemic period. What can universities do in this regard?
A: It is the essence of education and the root of the university's adherence to the humanistic spirit to foster virtue through education and cultivate talents who have a good and all-round moral, intellectual, and physical grounding. Since the COVID-19 pandemic, medical workers, scientific researchers and community workers around the world have been working day and night on the frontlines of the epidemic, showing the best of human nature through their dauntless courage and perseverance against all odds, and providing a vivid practical example of the kind of people that universities cultivate and the ways universities should cultivate them. Facing a changing world, universities should keep in mind the mission of education, and cultivate outstanding talents with ideals, capabilities and responsibilities, and promote the progress of civilisation and the development of the world.