Experiences of an eco-pioneer
Natalie Chung: CUHK BSSc geography programme makes Oxford MPhil environmental programme a cinch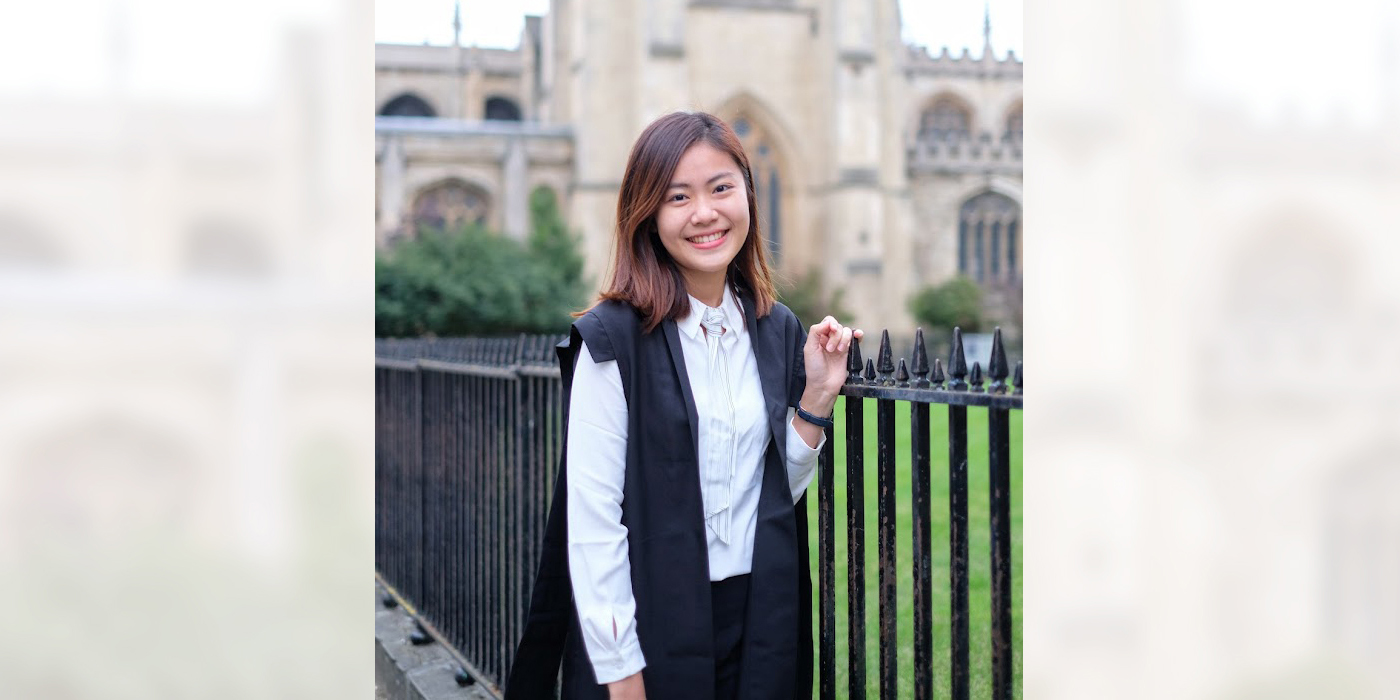 Natalie Chung, who has been concerned about climate change since childhood, found herself in her element at CUHK's Department of Geography and Resource Management. In fact, her CUHK experience helped her become a low-carbon local travel guru–notably, she has founded an environmental education organisation and published books on immersive eco and cultural travel. She was subsequently appointed a member of the government's Council for Sustainable Development, before winning a scholarship to pursue an MPhil in environmental change and management at the University of Oxford.  
Natalie returned to Hong Kong after graduating last year. "Most of the topics taught at Oxford had already been covered by the undergraduate curriculum at CUHK," she says. "I even came across exam questions identical to the ones at CUHK!" No wonder, then, that CUHK ranked 17 for geography in the QS World University Rankings by Subject 2022.
Natalie is confident that diversity in curriculum design and the passion of the teachers contributed to the University's laudable performance.
Solid and diverse curriculum
"Geography and resource management at CUHK is an interdisciplinary programme that involves a great deal of social science and natural science knowledge. For example, students are required to take 'geographic information systems', as well as to learn all about environmental impact assessments. Because of this, I had a relatively easy time getting the hang of the Oxford MPhil programme, compared to classmates who had had to start from scratch," she adds.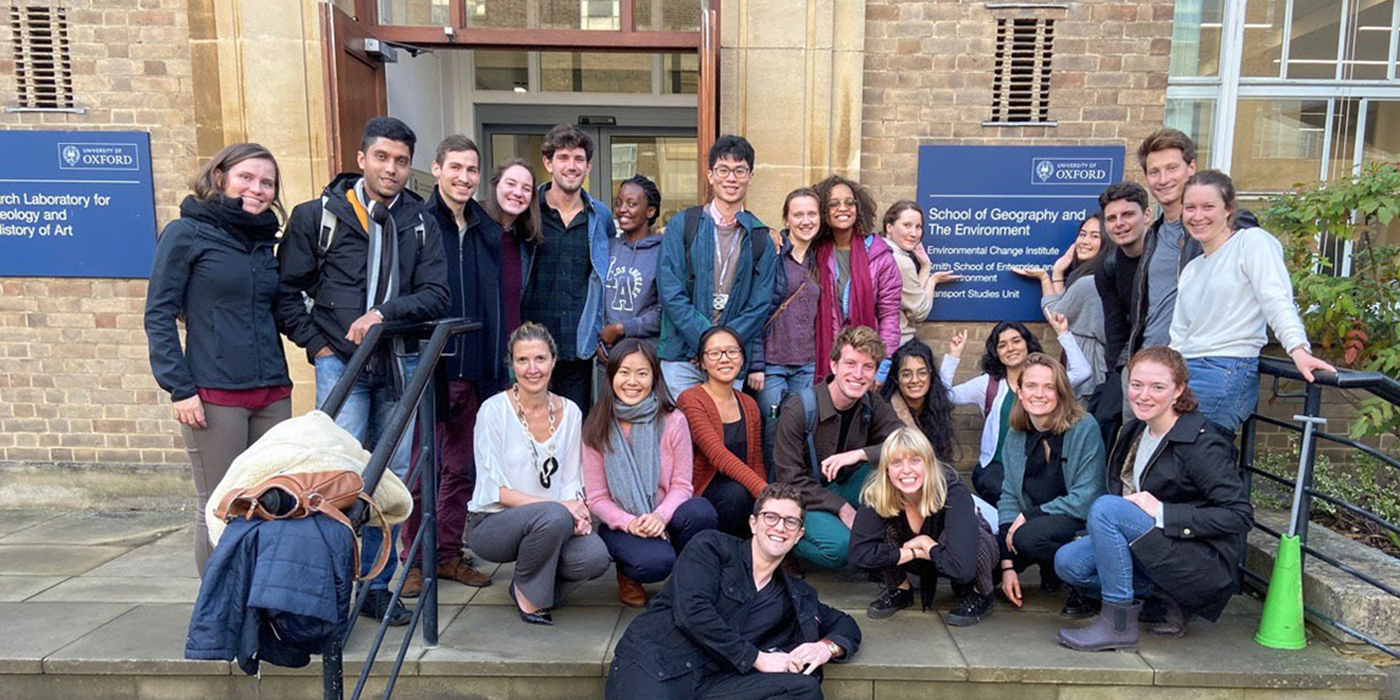 Another feature of the CUHK geography programme is the large number of field trips. "We took up to one field trip a week. For instance, we went to collect soil samples and observe nature in Mai Po and Tai Tong." Field practicum lets students put into practice what they learn in the classroom. In addition, it hones problem-solving skills, nurtures team spirit and trains emotion management. "At a Year 1 field camp, we had to produce large posters and reports without Wi-Fi. It forced us to think on our feet," recalls Natalie.
The department's field trips are not confined to Hong Kong. Natalie was most impressed by a trip to Jiangxi. "We visited the source of the Dongjian River on Mount Sanbai and observed how artificial intelligence is used locally to raise production of navel oranges. We also learnt from professors involved in formulating environmental policy and engaged in exchange with geography students from Gannan Normal University. I am still in touch with some of those students."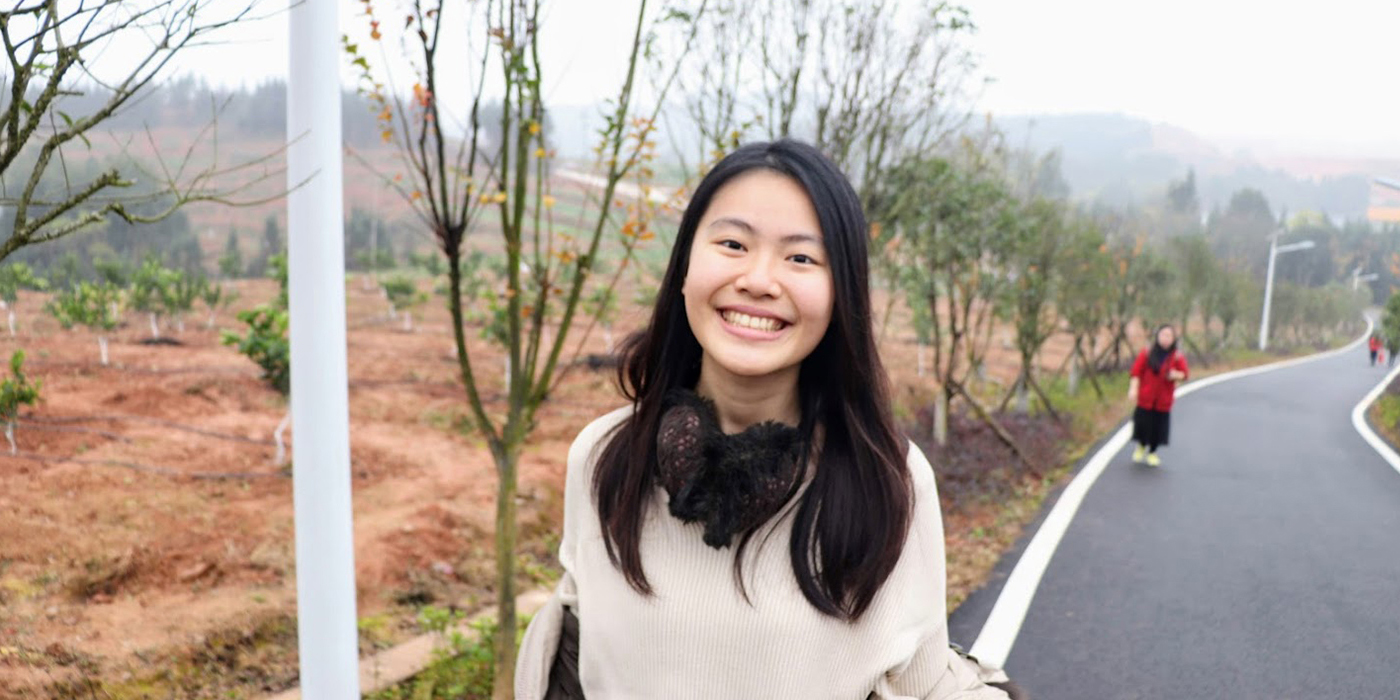 Professors who inspire
Of course, the design of an academic programme is crucial to its success. But even a sublime symphony needs a first-rate performer or conductor to do it justice. Natalie says that besides being experts in their respective fields, professors at CUHK offer policy advice to the government and non-governmental organisations as prominent members of environmental committees; this equips them with experience and networks that can greatly enrich their students' vision and exposure.
"CUHK's geography teachers are highly dedicated. I heard that during the suspension of field trips due to COVID, some professors visited the sites to shoot videos just so that their students could continue to learn. In doing so, they show us by example how we should always give our best, no matter the circumstances."
Natalie wishes to thank Professor Lam Kin-che and Professor Xu Yuan, in particular.  "Professor Lam not only made me his assistant in one of the World Bank's environmental assessments of Brisbane, but he also helped me design my itinerary, as the job coincided with my exams.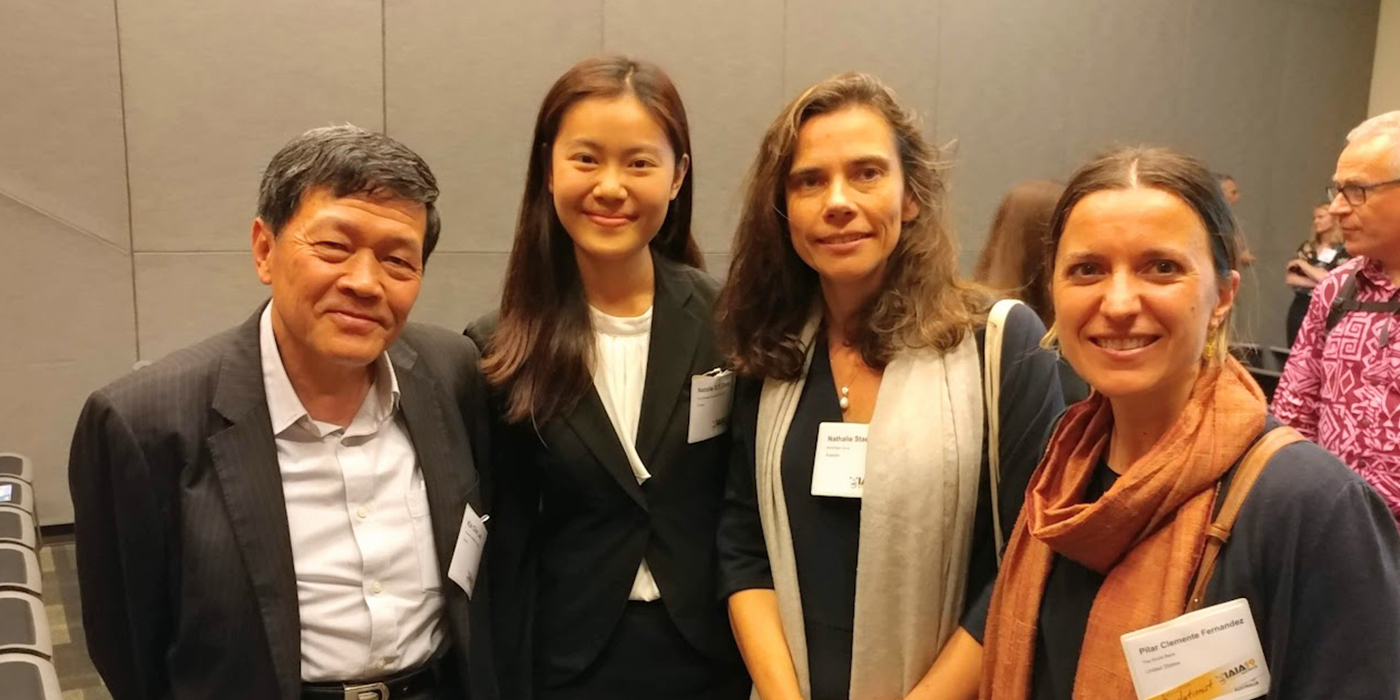 "Professor Xu was my graduation thesis advisor. His guidance contributed to my thesis being published in the peer-reviewed international journal Utilities Policy. He also encouraged me to get an MPhil and, while I was at Oxford, shared his views about my master's thesis with me."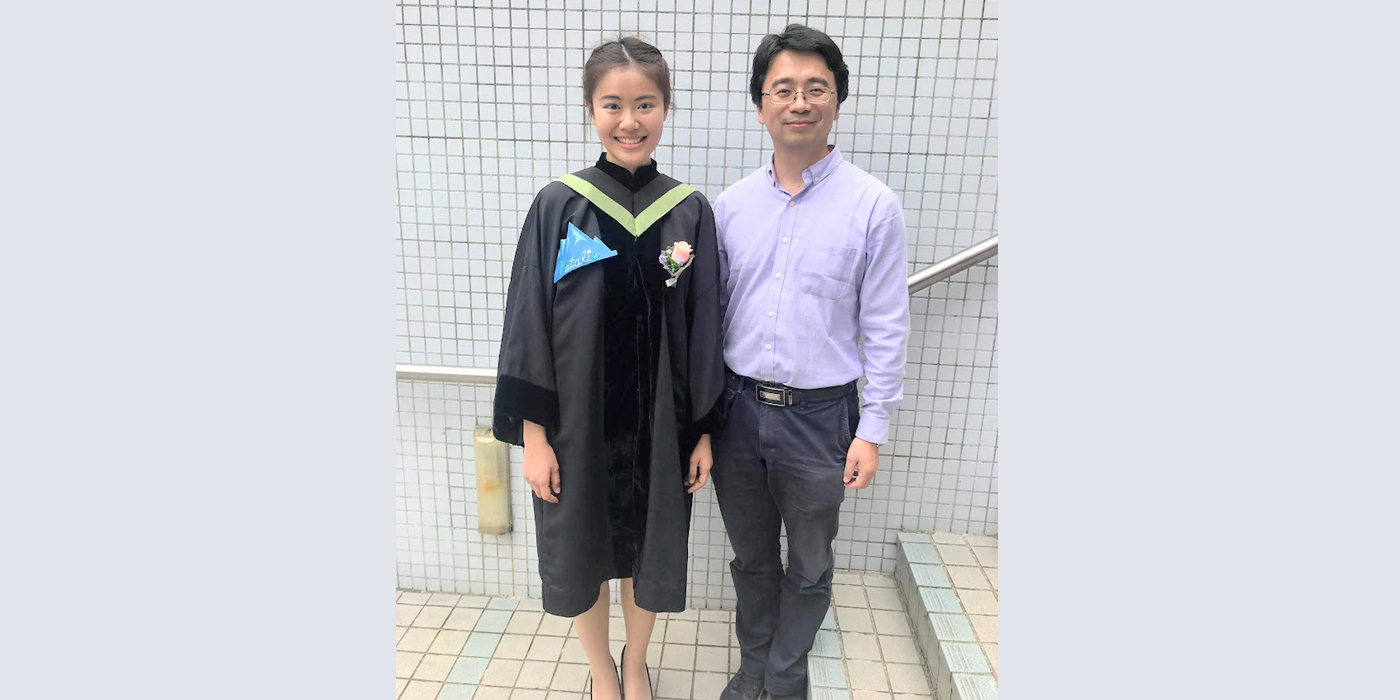 Like-minded peers
Besides the acquisition of knowledge and know-how, Natalie is most grateful to CUHK for friendships with intelligent classmates who, like her, are passionate about nature. "I am particularly appreciative of a female classmate, Kelly Lau, who chose to be a farmer after graduation. We organised an education forum together recently to raise awareness and garner support for local agriculture and low-carbon living." Having such friends has reaffirmed Natalie's belief that green living starts from the self, and this has had a significant impact on her career development.
Natalie's eco-footprint
In 2015, Natalie and Arthur Yeung, a senior from her department, took part in the Hong Kong Tertiary Schools COP21 Challenge, a regional contest from the global climate summit. The duo's brainchild V'air, an online platform for eco-travel, bagged the top prize. Subsequently, V'air received support from the CUHK Social Enterprise Startup Scheme and Wu Yee Sun College that allowed it to develop into an environmental education organisation promoting low-carbon local tourism. Specifically, V'air organises guided eco and cultural tours in Hong Kong to raise awareness of aviation emissions and the availability of greener options.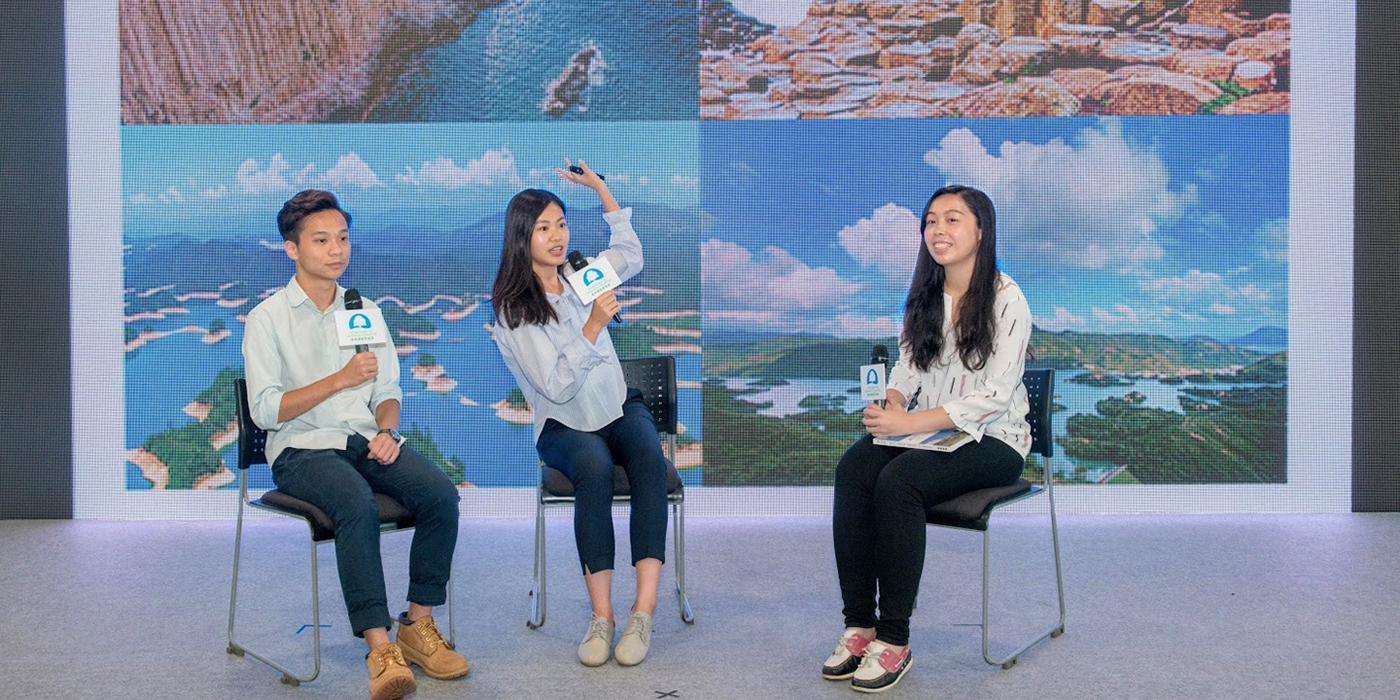 Combining her insight from running V'air and experience as a fervent hiker, Natalie published Low Carbon Tours in 2017 and co-authored Roaming the Mountains: Yama Girls' Hiking Guide with Daisy Yeung, a CUHK orientation camp team leader, in 2020. In 2019, she was appointed by the government as a member at the Council for Sustainable Development given her track record in environmental education and research. In this capacity, she advises the government on priority areas for sustainable development and strategies that take into account environmental, social and economic factors.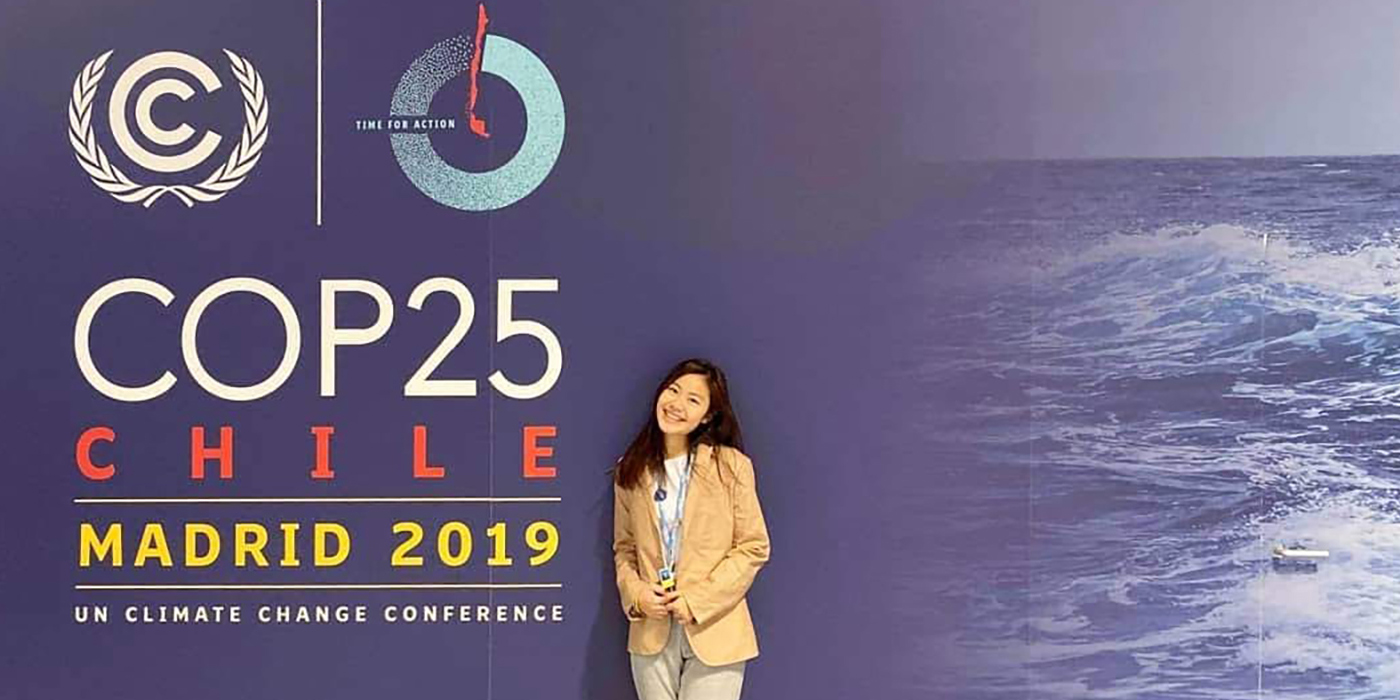 At present, Natalie is responsible for promoting sustainable development, ESG (environmental, social and corporate governance), and carbon neutrality at DFI Retail Group (originally Dairy Farm). In her spare time, she continues to give her take on the strategic planning of V'air. Natalie has been named one of the most impactful young sustainability leaders in Asia Pacific by Eco-Business and recognised as a climate activist by international media such as Japan Times and Tatler. Moreover, she will be Hong Kong's only representative on an Antarctic expedition team led by American marine biologist and oceanographer Sylvia Earle. Other team members include Dr Dan Laffoley, principal advisor for marine science and conservation at the International Union for Conservation of Nature, Mohamed Nasheed, fourth president of the Maldives, and Chen Qiufan, celebrated sci-fi writer. Natalie is considering pursuing further studies and committing completely to climate education and policy research. 
Reported by Florence Chan
Front image design by Amy Tam
Photo courtesy of the interviewee