Hong Kong first: CUHK male swimmer claims gold at junior worlds
Freshman Adam Mak sets sights on 2024 Paris Olympics
Two months ago, Adam Mak Sai-ting set foot on the CUHK campus as a freshman for the first time, enrolled in physical education, exercise science and health.
A year younger than most of his peers, Adam had been admitted to the programme by dint of his outstanding swimming achievements, recognised under the Student-Athlete Learning Support and Admission (SALSA) Scheme.
"The CUHK campus feels like home," says the swimmer, who won a gold medal in the men's 200 metre breaststroke with 2 minutes and 11.84 seconds at the World Aquatics Junior Swimming Championships in Israel in early September. At the age of 17, he became Hong Kong's first male athlete to claim gold in the competition.
How it all started
"It was my mum who put me in swimming when I was young – as I was suffering from allergic rhinitis," says Adam, recalling how his encounter with the waters began. Soon he started to take part in competitions, and later became a full-time athlete with the nomination and encouragement from his coach. "My parents also fully support my decision."
Regular training was by no means easy to the budding competitive swimmer. Athletes are known for their strong sense of determination, and so is Adam. "I remember myself shedding tears, unwilling to train in winter because the water was so cold." Training schedules were hectic but he persisted. "There were times when I was too drained to continue," he says. "But that feeling didn't last long. I have never thought of giving up."
Swimming is not only a big part of Adam's life, but also a way for him to de-stress. "Apart from swimming, I enjoy listening to music," he says. "I also love the times when all the athletes gather for breakfast after the morning training routine."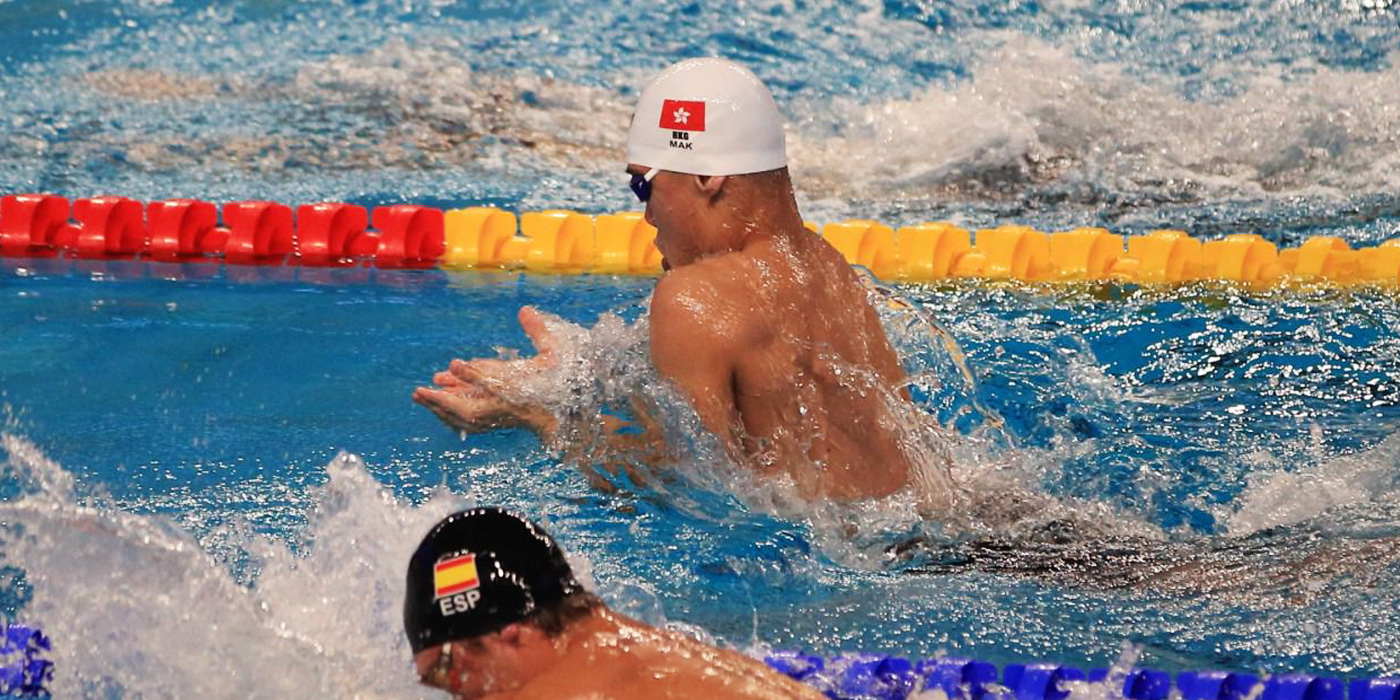 A rising star
"I won the bronze medal in the same competition last year," says Adam. "That was the first time I had travelled out of Hong Kong to take part in a competition. I couldn't even find the right way to the venue of the medal ceremony."
In this year's Junior Worlds, Adam and his team encountered an unexpected challenge. "The flight going to Israel was cancelled due to a strong typhoon. As our arrival had been delayed, we had to practise immediately after landing, without having enough time to adapt to jet lag," he recalls.
Adam was the first runner-up in the preliminary round. "However, I was confident that I had a chance of winning gold. Breaststroke has always been my strength since young," he says. "It was a hard battle with the contestants from Japan and the United States, and I tried not to stress myself out too much."
The talented swimmer eventually brought home the gold medal, the first time in the history of Hong Kong. He is not complacent about his achievements, however. Setting his sights on a bigger goal, he adds: "I hope to break the Hong Kong record and join the Paris 2024 Olympic Games."
New to the CUHK community
Adam's admission had materialised through the SALSA Scheme, which helps student-athletes enrol in the University based on their sporting talents. He says: "It is a useful platform for me to pursue a career in swimming while gaining more knowledge of sports psychology and anatomy. I am grateful that this programme allows a flexible timetable so I can strike a balance between studying and sports training."
For boarding, the newcomer has been allocated to S.H. Ho College. He is still feeling his way around CUHK and loves the campus scenery. "This beautiful campus, built on a hillside, has nurtured a lot of outstanding talent. My favourite place is S.H. Ho College. It is constantly giving me a sense of home where I feel safe and warm."
On his future plans and expectations, Adam says: "As an athlete, I hope to devote myself wholeheartedly to both training and studying. If time allows, I also want to get a taste of university life and enjoy a fulfilling campus experience."
By Gillian Cheng
Photos courtesy of World Aquatics