Timeless treasures: a journey through 60 years
CUHK features 50 masterpieces with University Mall, University Science Centre & Four Stone Pillars
The University organises "CUHK 60th Anniversary Miniature Exhibition" at the New Town Plaza in Sha Tin from 15 September to 17 October, presenting a collection of 50 exquisite artworks. Among the highlights include a magnificent 4.4-meter-tall illuminated "Gate of Wisdom" and an endearing mini CUHK school bus. The most spectacular are the ones that pay homage to the university's iconic representations and its close connection with the Sha Tin community.
The exhibition is organised by CUHK with the assistance of Joyful Miniature Association, while the venue is provided by New Town Plaza. It aims at celebrating the Diamond Jubilee with the public by presenting CUHK in a fresh and innovative way.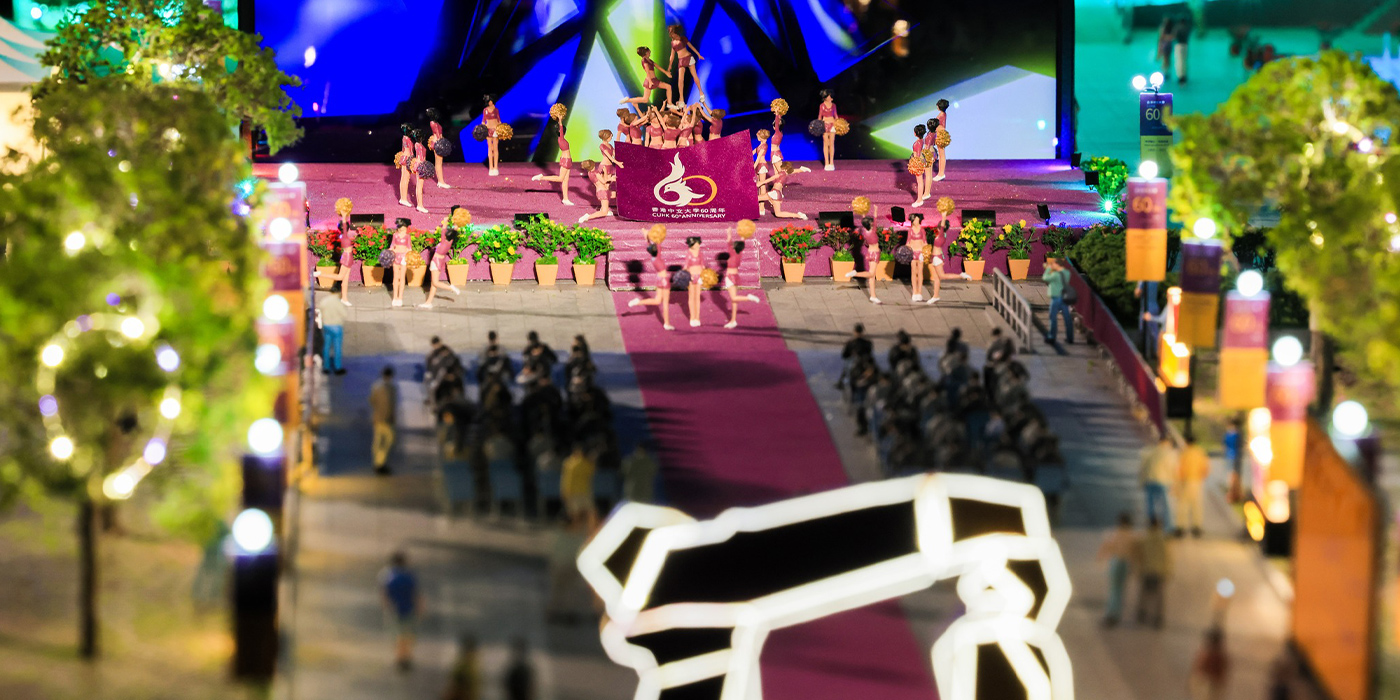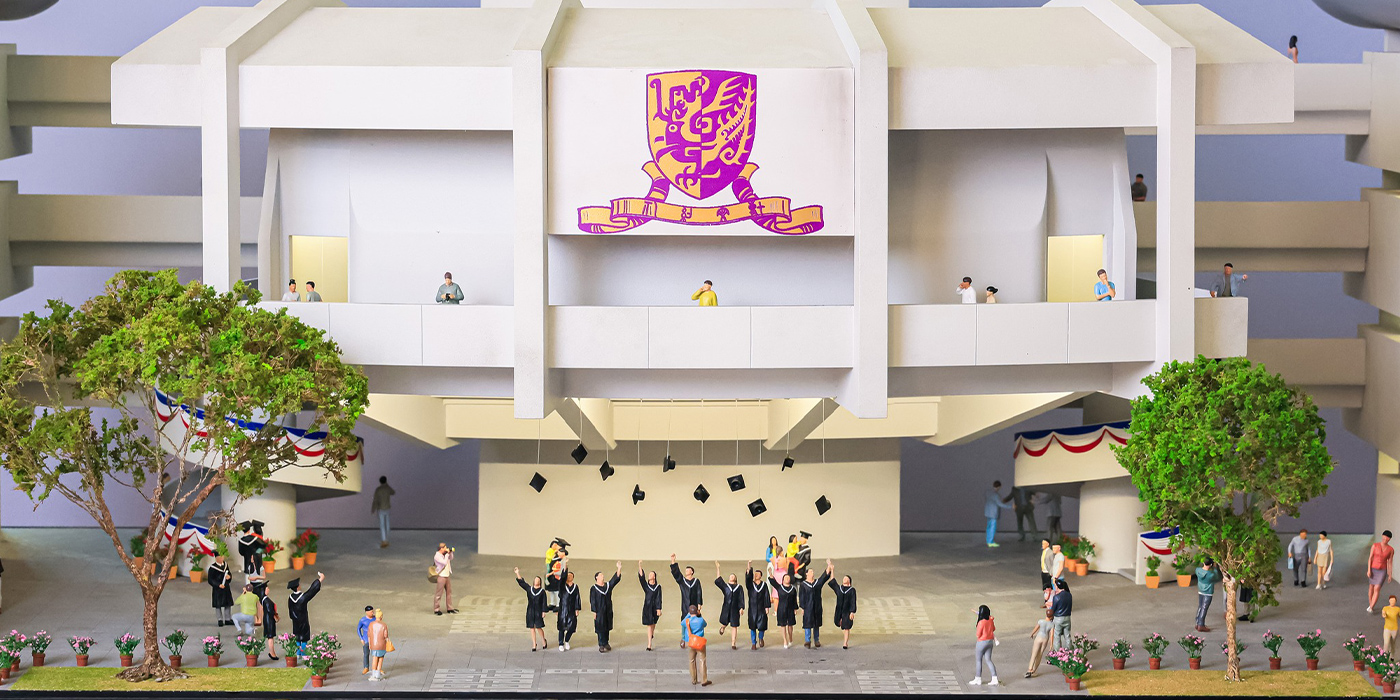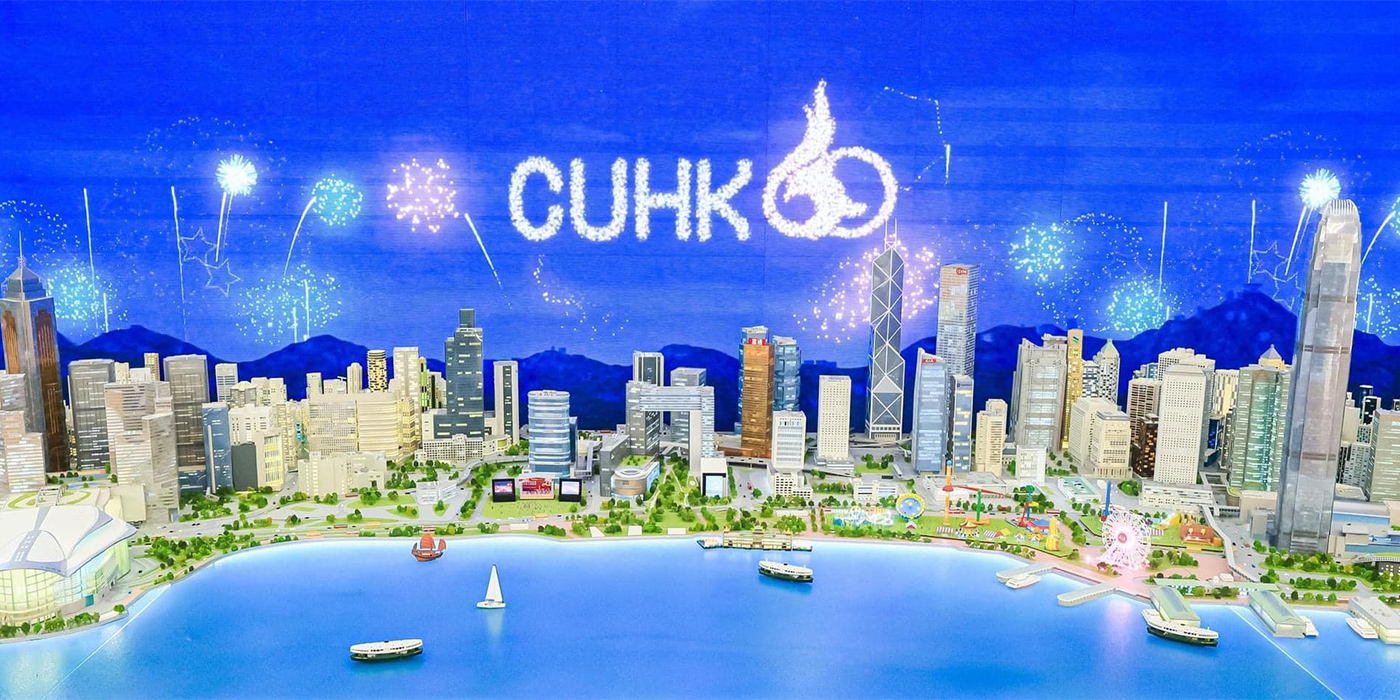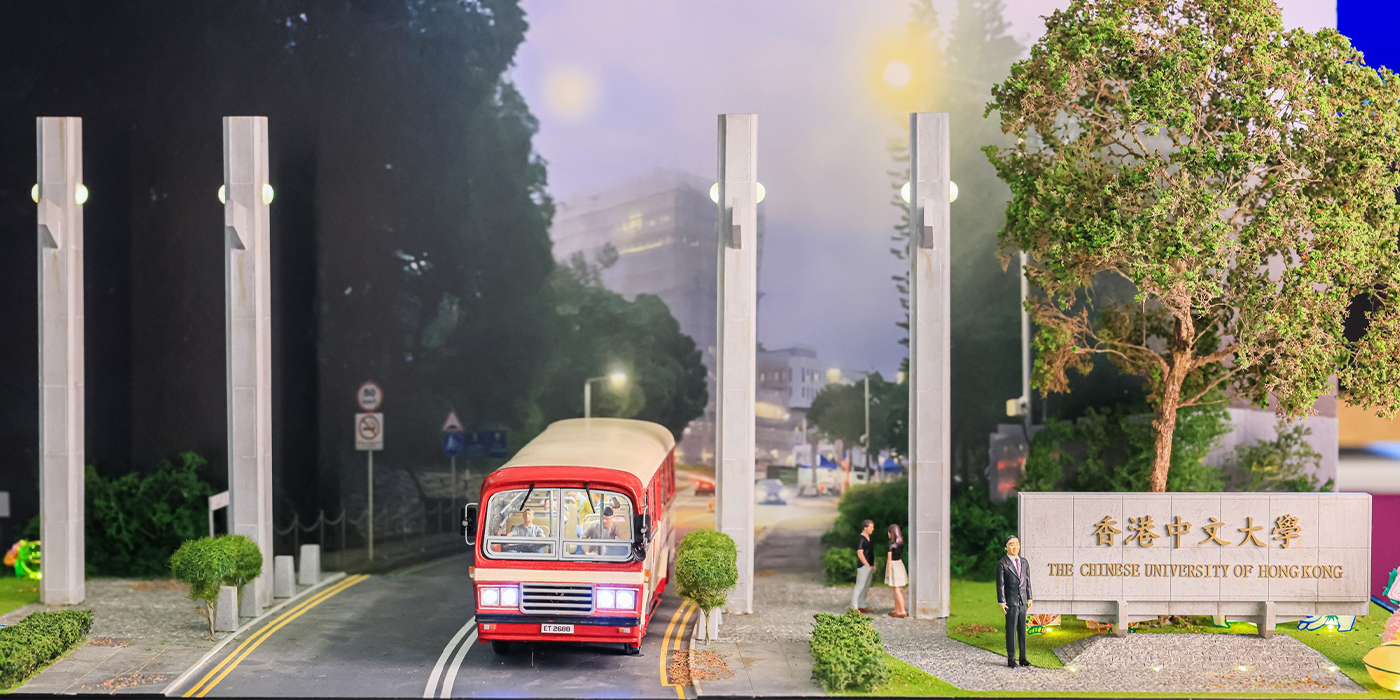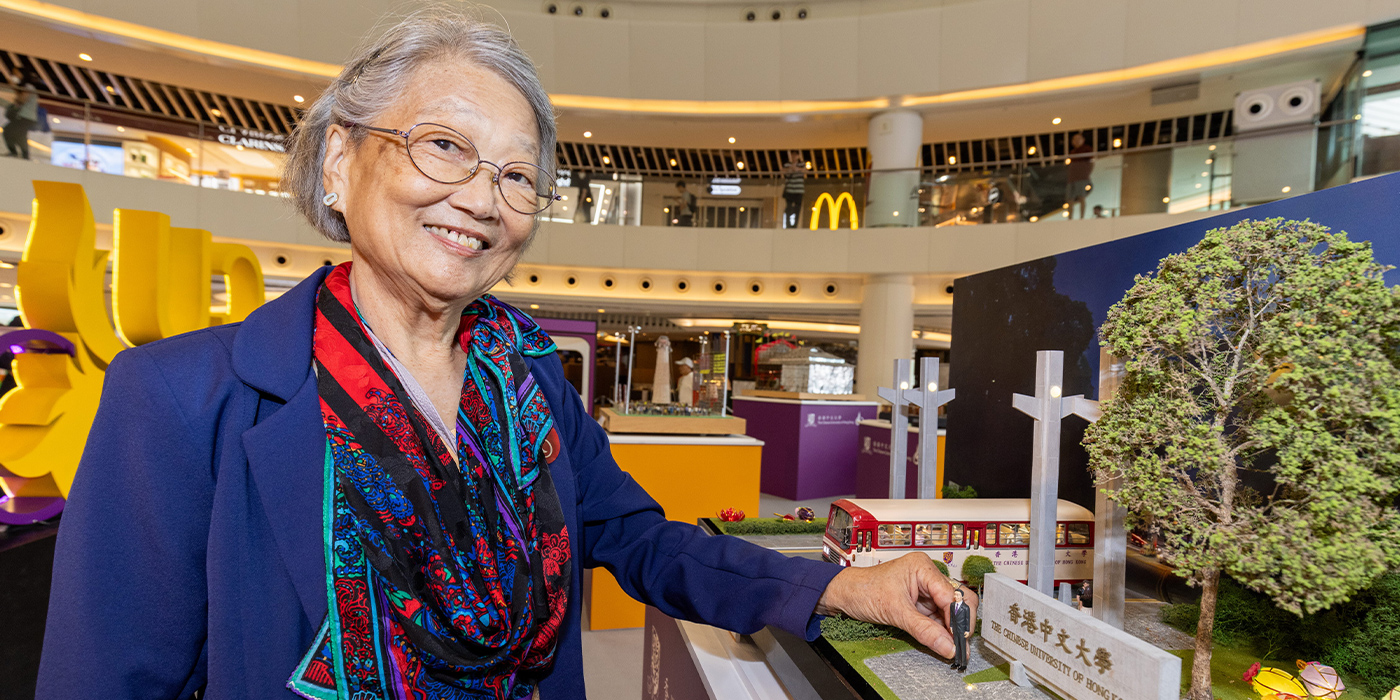 Secretary for Culture, Sports and Tourism Mr Kevin Yeung Yun-hung said in his congratulatory speech: "For the past sixty years, The Chinese University of Hong Kong has upheld the mission of combining tradition with modernity, and to bring together China and the West. It has also gained international recognition as a renowned research-intensive comprehensive university, achieving excellence in both technology and cultural arts. In addition to its campus in Sha Tin, close to a decade ago, CUHK established The Chinese University of Hong Kong, Shenzhen in collaboration with the Shenzhen Municipal Government. This year, it further established CUHK Hong Kong-Shenzhen Innovation and Technology Research Institute (Futian), actively supporting the development and construction of the Greater Bay Area. I firmly believe that CUHK will continue to forge ahead, working hand in hand with the government to enhance Hong Kong's development momentum, nurture more talents, and make positive contributions to both the country and Hong Kong's development."
Professor Tuan said: "CUHK is nestled in a scenic landscape of mountains and clear waters, overlooking Tolo Harbour and Pat Sin Leng. The miniature exhibition, which showcases the most iconic landmarks and symbols of the CUHK campus in the form of miniature art, can enhance public understanding of the University's six-decade-long history and accomplishments."
"Situated in Sha Tin, CUHK takes the opportunity to present a rich collection of exhibits that highlight the cultural and local characteristics of the district, reviving the collective memory of the Sha Tin and CUHK communities.," he said.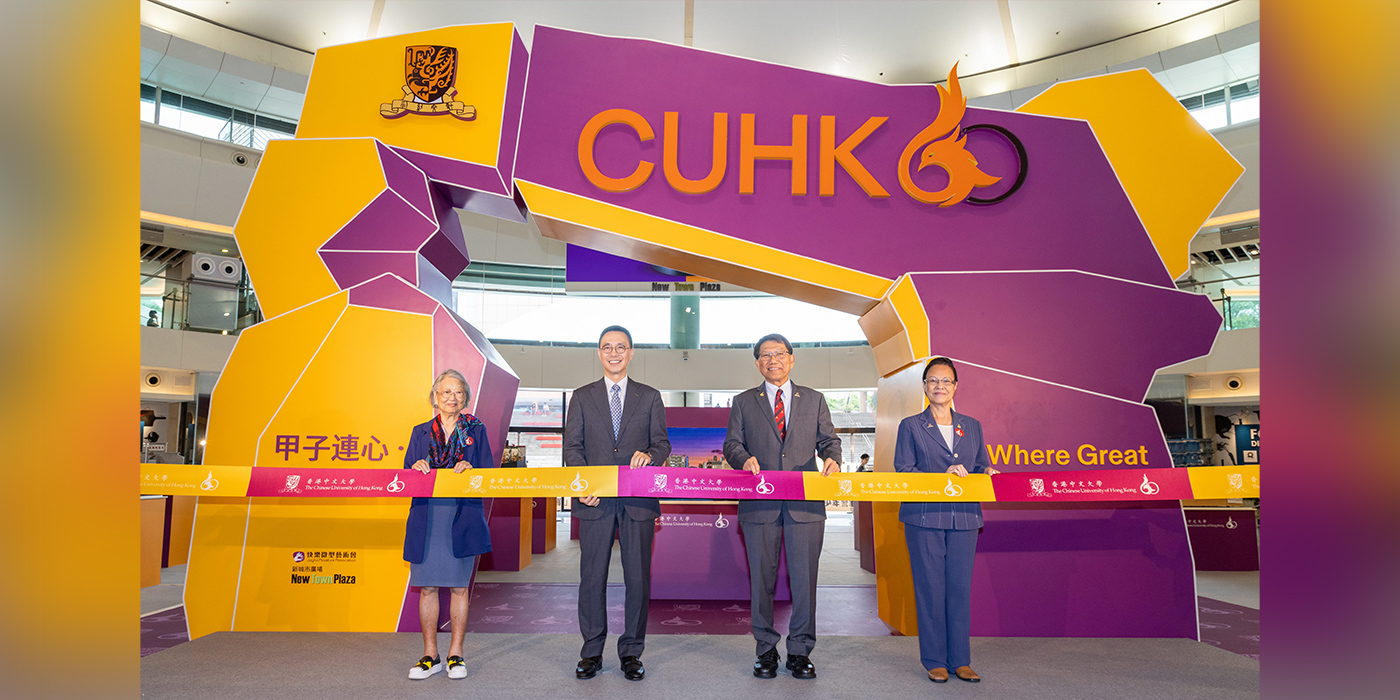 In addition to artworks featuring CUHK's campus landmarks, the exhibition showcases art pieces closely related to CUHK and the Sha Tin community. These include "Sha Tin Dragon Boat Race", "Sha Tin Chicken Congee", "Phoenix Coronet: The Inheritance of Culture", "Cha Duk Chang", "The Conveyor-belt Sushi Restaurant" "Fai Speed Cut", and "Our Classroom in Those Bygone Years". Please refer to the appendix for details. The exhibition illustrates the historical and contemporary street scenes of Hong Kong, encompassing its culinary delights, quaint shops, people, festivals, and architectural landmarks, symbolising the enduring 60-year journey of growth and evolution shared by CUHK and Hong Kong. CUHK student ambassadors will lead guided tours in the exhibition, presenting the history and stories of CUHK.
CUHK 60th Anniversary Miniature Art Exhibition
Date: 15 September (Friday) to 17 October (Tuesday)
Time: 12 noon to 10 pm (Monday to Friday); 10 am to 10 pm (Public holidays, Saturday and Sunday)
Venue: L1 Entrance Arena, New Town Plaza, Phase 1, Sha Tin
Fee: Free