Student flag-guard team makes its debut at CUHK flag-raising ceremony to kick off the 2023/24 academic year
4 September was the first day of the 2023/24 academic year at CUHK. The University held a flag-raising ceremony at its flagpoles, marking the beginning of the new term. For the first time, the flag raising was performed by CUHK's student flag-guard team. The national flag was raised alongside the HKSAR flag and the CUHK flag to a rendition of the national anthem.
CUHK is honoured to have had about 140 guests attend the flag-raising ceremony, including CUHK Council Chairman Professor John Chai Yat-chiu, Vice-Chancellor and President Professor Rocky S. Tuan, Council members, senior management team members, staff, students, alumni, Legislative Council members and friends of the University.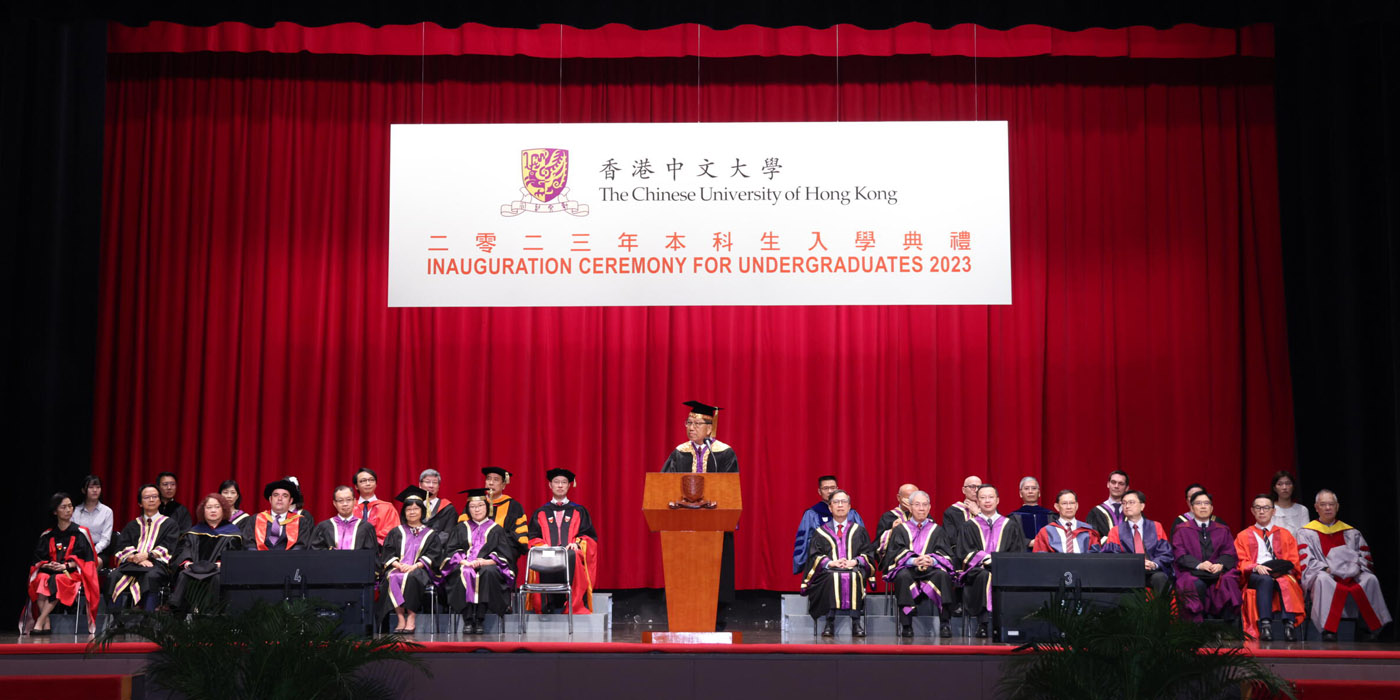 With the aim of promoting students' sense of belonging to the country and enriching their learning experience, CUHK has established a dedicated team of student flag guards. CUHK is collaborating with the Hong Kong Army Cadet Association (HKACA) to professionally train selected students to perform the flag-raising duties through a four-week programme, ensuring the performances meet the highest standards.
The event was followed by the Inauguration Ceremony for Undergraduates 2023 held at Sir Run Run Shaw Hall. Professor Tuan addressed students about to embark on a new journey in life in English, Cantonese and Putonghua. He pointed out the threat of machines and AI to human jobs and encouraged students to learn more new skills, saying, "In the face of this existential challenge for human workers kindled by technological advancement, we must retain our comparative advantage over machines through reskilling and upskilling, focusing on the characteristics and qualities that make us unique as humans, hence, irreplaceable." He encouraged students to develop skills such as critical thinking and collaboration. At the same time, he added, they should embrace social responsibility and develop a global outlook so that they will become constructive agents with the power to make a positive difference to the world, both individually and collectively.
"Today, as you formally become a member of the CUHK community, you all arrive with an opportunity and a responsibility to learn about the rich and complex history of our country and its development in the modern era, increase your awareness of national security and cultivate a strong sense of national identity from the abundant courses and experiences we have on offer. Open yourselves to the myriad of opportunities that the development of the Guangdong-Hong Kong-Macao Greater Bay Area has created and prepare yourselves to contribute to national progress as well as a sustainable future of the world," he said.