CUHK Innovation Day gathers great minds
Outstanding startups innovate for societal impacts
Professor Alan Chan Kam-leung, Provost of CUHK, summed up the core message of the CUHK Innovation Day when he officiated at the kick-off ceremony on 28 October. "Innovation is not only a process, but a culture to spread across the University and society," he said.
He also described the event as an opportunity for networking and knowledge exchange, echoing the Hong Kong Chief Executive's 2022 Policy Address, which pledged new measures to support innovation and the development of technology.
The Innovation Day aims to inspire and encourage the University community to research and innovate, so as to tackle global challenges. Vaccinology, Microelectronics and Carbon Neutrality featured in the Innovation Day's thematic sessions. Along with an elevator pitch competition, in which competitors presented ideas and concepts in two minutes, the event showcased CUHK's efforts to promote research and innovation in Hong Kong.
GenieBiome: make it happen
"Our dream is to bring health and hope to the next generation through microbiome discoveries," said Dean of the Faculty of Medicine Professor Francis Ka Leung Chan at the Innovation Day. Together with Professor Ng Siew Chien, he founded GenieBiome to achieve this mission impossible.
An internationally renowned academic, Professor Chan thinks he may be perceived as too well-established (or too old) to step outside his comfort zone to pursue entrepreneurship. "But I am ready to prove them wrong," he said.
Professor Ng, a British trained gastroenterologist who joined CUHK 10 years ago, said, "I am always up for new challenges." They shared the same "gut feeling" that the human microbiome is the next frontier of medicine.
The team turned their dream into reality when they managed to impress the Innovation and Technology Bureau about the importance of their innovation against all odds. They created MagIC, the one and only R&D powerhouse in Asia dedicated to drive translational microbiota research.
Riding on the achievement, Professor Ng and Professor Chan determined to transform their innovation into societal impact. "Three years ago, we had coffee and started our business proposal on a napkin. That was the birth of GenieBiome (G-NiiB)," shared Professor Chan.
G-NiiB, like any other businesses, started with humble beginnings with a shared desk in a small office at Wan Chai. The journey was not all smooth sailing when their original idea on obesity treatment failed to impress investors. The COVID-19 pandemic then became a golden opportunity for innovation – the team made use of big data, as well as laboratory and clinical studies to develop the G-NiiB Immunity formula which turned out to be unexpectedly popular and effective.
Their dream, however, is to be much more than a probiotics company. They have reinvented themselves and developed a new generation of fecal bacteria-DNA technology, including prediction of colon polyp recurrence and the world's first non-invasive prediction test for autism.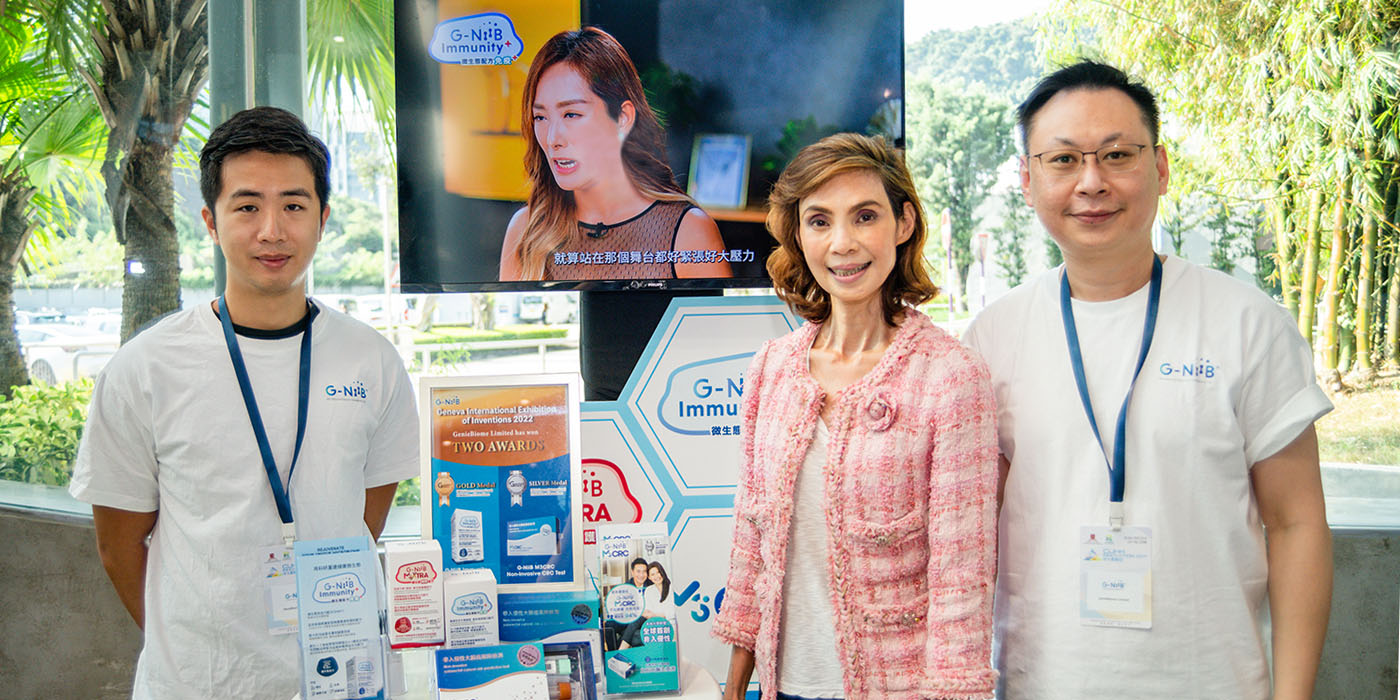 O-Spheres: it all started with curiosity
"The innovative hollow microsphere technology came about entirely by accident," recalled project leader Professor Ngai To, Assistant Dean (Research) of the Faculty of Science and Professor at the Department of Chemistry. "There was no specific area of application when this research first started. It was led by curiosity."
The technology offers methods to fabricate hollow particles with precisely controlled physical properties such as shell thickness, permeability, mechanical strength and biocompatibility. This offers a range of practical uses in cosmetics, skincare, and the printing industry.
Professor Ngai and his team spent years researching the technology, which was first applied to white ink printing. "The opportunity appeared by chance. An ink company approached me when I was attending a conference in Spain. Our hollow microsphere technology was successfully applied to white ink printing to prevent blockages and the sedimentation caused by the density of ink," he said.
"And then I thought – what about applying the technology to other products?"
With the desire to create positive impact on society, the team came up with the idea of expanding the technology's potential applications. They subsequently launched novel hollow physical UV filters for beauty, cosmetics and skincare products.
"Coral-unfriendly chemical filters are effective in UV protection but can cause skin allergies, and some may even cause cancer. Manufacturers may use microplastics to encapsulate these UV filters to avoid skin penetration, but they pollute the environment. The cost and texture of traditional physical filters also limit their usage. Our physical filters have successfully addressed all pain points, and we have recently started an industrial scale-up for mass production. As a Faculty Impact Research Coordinator, I hope to set an example for my colleagues and create research impact which can contribute to society. Whether it's successful or not, it will be an invaluable experience," he said.
 "We are pleased to showcase at the CUHK Innovation Day this year as one of the TSSSU (Technology Start-up Support Scheme for Universities) companies and present our technology at CUHK's first elevator pitch competition."
O-Sphere's vision is to bring research to market, and "to engineer hollow spheres to build a greener globe".
Beth Bioinformatics
"It was a very exciting process, seeing our research having a real impact on the pharmaceutical industry and society," said Professor Maggie Wang Haitian, Associate Professor of the Jockey Club School of Public Health and Primary Care. Beth Bioinformatics (BethBio) was founded after the team's success in accurately predicting virus evolution. It aspires to empower the development of new and better vaccines that serve all kinds of people. The company's solutions can improve the effectiveness of seasonal influenza vaccines by about 20%.
BethBio has been working with pharmaceutical companies on the co-development of new vaccines. "Unlike consumer products, what we do may seem intangible," said Professor Wang. "Yet the in silico algorithms will empower vaccines and provide the general public with better protection."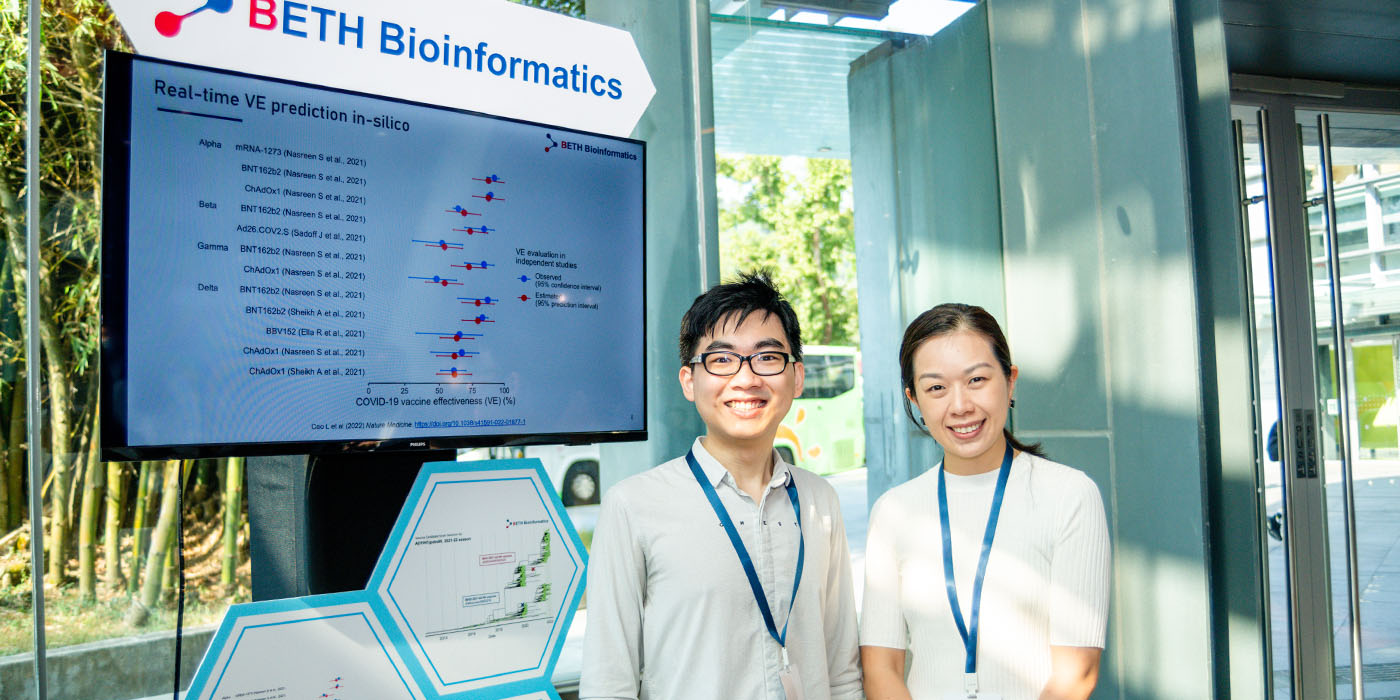 Luquos Energy
Founded in Hong Kong in 2020, Luquos Energy focuses on innovation in advanced battery technology. "Commercial lithium-ion batteries are flammable," said project leader Professor Lu Yi-Chun from the Department of Mechanical and Automation Engineering. "Our mission is to provide inherently safe, low-cost, eco-friendly battery technology to enable the widespread use of renewable energy."
It was an unforgettable experience when the technology was first put in practice, she added. "I remember when we tested our first-generation flow battery prototype on a ride-on car, many of us gathered to witness the successful application of our battery technology on the car. It was such a memorable moment."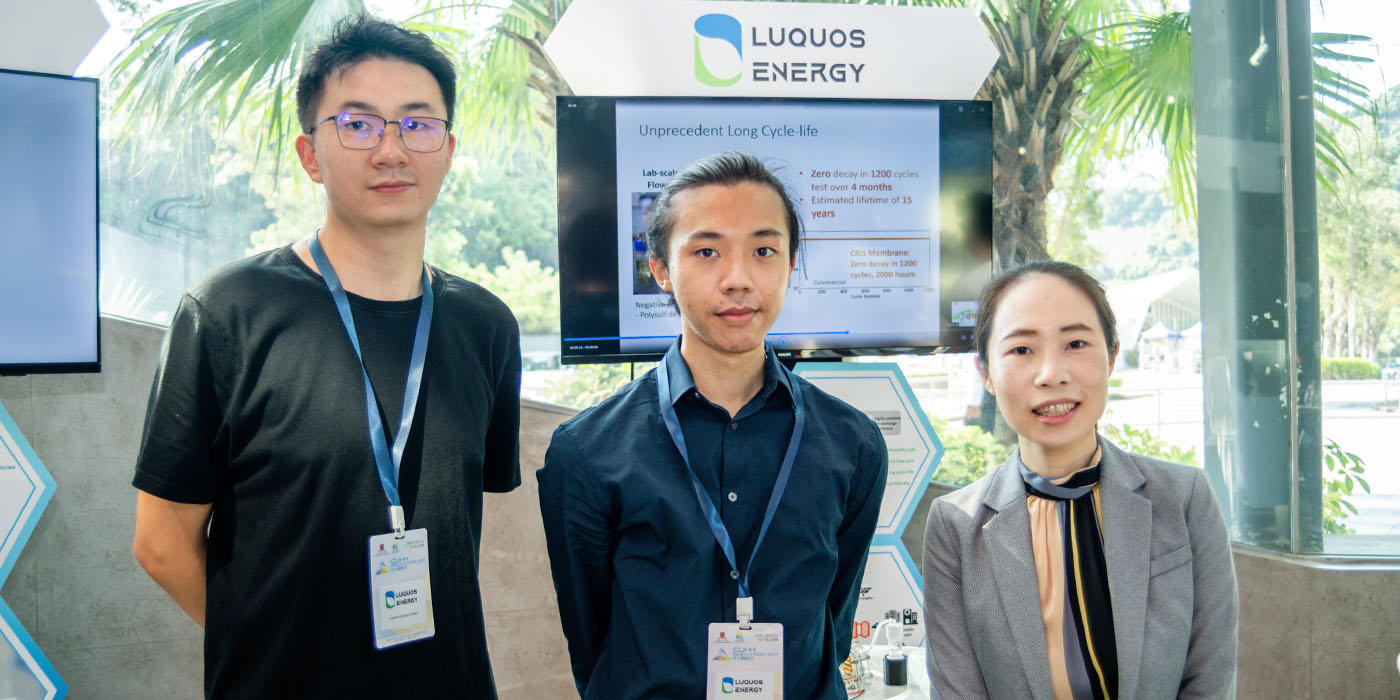 Results of the 2nd Innovation Day cum Elevator Pitch Competition:
Champion: Ynno Med Limited
First runner-up: Illuminatio Medical Technology Limited
Second runner-up: O-Spheres Limited
Most Innovative Technology Award: MicroMag Healthcare
By Gillian Cheng
Photos by Gloria Ng