Showcasing students' innovations online
With the aim of promoting students' innovation, creativity and entrepreneurship, the Student Achievements in Innovation and Entrepreneurship Virtual Exhibition 2022 is taking place now . It showcases the outstanding winning works of the awardees in the 17th 'Challenge Cup' National College Students' Extracurricular Academic Science and Technology Contest, and The Vice-Chancellor's Cup of Student Entrepreneurship (VCCE) Boot Camp.
The opening ceremony was officiated over by CUHK's Vice-Chancellor Professor Rocky S. Tuan (2nd right), Professor Benny Zee Chung-ying (2nd left), Director of the Office of Research and Knowledge Transfer Services, Professor Wong Kam-fai (1st right), Director of the Centre for Innovation and Technology, and Professor Kevin Au (1st left), Director of the Center for Entrepreneurship.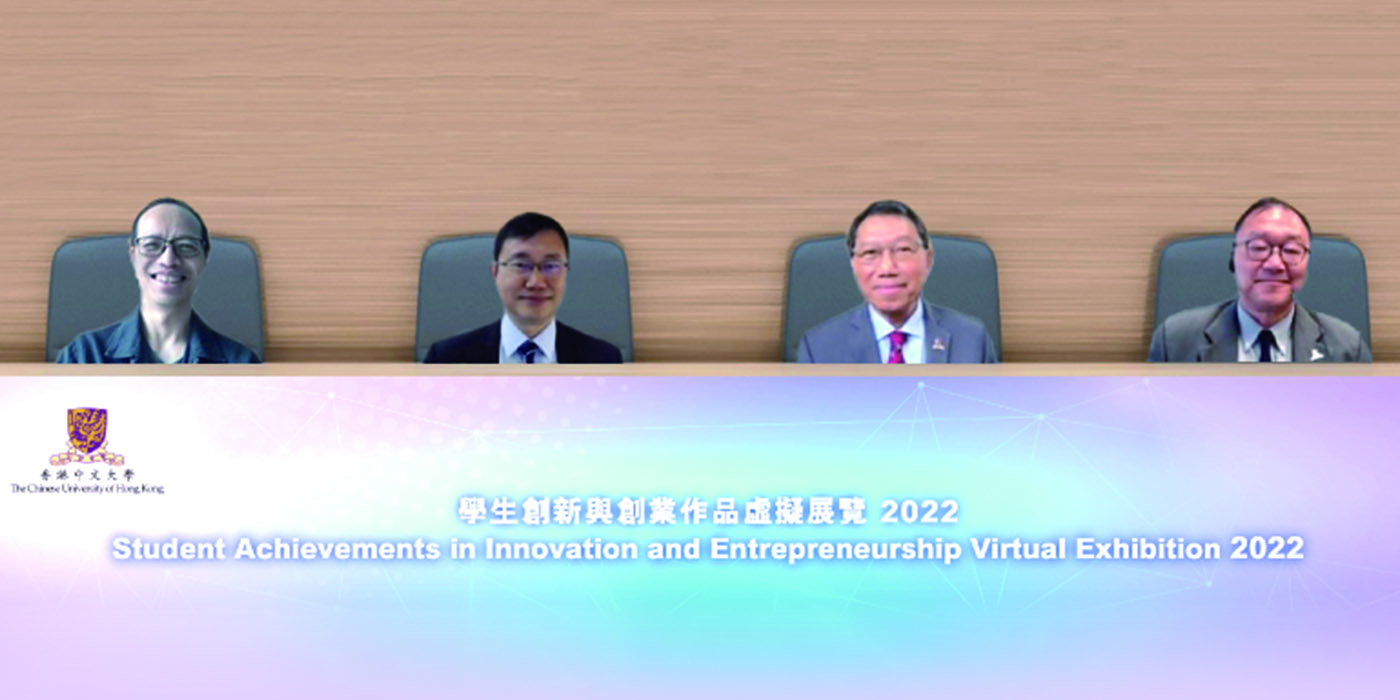 Professor Tuan said, "CUHK is committed to promoting students' entrepreneurship and innovation. We encourage students to develop their creativity by leveraging their strength in academic knowledge, resulting in innovative entrepreneurial ideas." He added that CUHK has an effective, pragmatic technology transfer mechanism, through which the University has successfully nurtured 179 start-up companies. According to the Hong Kong Unicorn List Unicorns HK 2021 announced by the Innovation and Technology Hong Kong Foundation, among the 18 unicorns, meaning start-ups valued at more than US$1 billion, that were founded, incubated or headquartered in Hong Kong, three were founded by CUHK research teams. With the abundant support and resources available at the University, Professor Tuan encouraged teachers and students who aspire to establish a start-up to integrate their knowledge with innovation, and transform research breakthroughs into real-world developments that have a positive impact on society.
The Student Achievements in Innovation and Entrepreneurship Virtual Exhibition 2022 is open until 31 August 2022. Members of the public are welcome to browse the winning entries online.
List of awarded CUHK projects:
Award
Project
Students
Department
Top Prize
Miniaturised Robotic Steerable Surgical Drill for Confined-space Bone Work
Wang Yan, Lin Hongbin, Wang Xuchen
Mechanical and Automation Engineering
First Prize
Development of a Novel Neutrophil-based Anticancer Immunotherapy: S3KO-TAN
Jeff Chung Yat Fai, Max Chan Kam Kwan
Anatomical and Cellular Pathology
Second Prize
Modularised ROV
Kwok Chun Keung
Mechanical and Automation Engineering
Third Prize
Highly Dynamic Nanocomposite Hydrogels Self-assembled by Metal Ion-ligand Coordination
Yuan Wei Hao, Yao Zhi,
Nathanael Lai Chun Him, Guo Jia Xin,
Tung Lok Him, Xu ShunXiang
Biomedical Engineering
Age-induced Deterioration of Neuro-muscular Junction in Sarcopenia: Study on Gene Expression and Morphology
Ng Wing Fai
Biomedical Engineering