CUHK appoints six honorary fellows
On 29 May, six distinguished people were appointed honorary fellows in recognition of their exceptional achievements in their professions and their outstanding contributions to CUHK and the wider community. The presentation ceremony was presided by Council Chairman Professor John Chai Yat-chiu.
Delivering an acceptance speech on behalf of fellow honorary fellows, Janice Choi, a lawyer and veteran leader of the Hong Kong Girl Guides, recalled fond memories brought by a response to her family's donation of a handwritten letter written by prominent Chinese writer Zhou Zuoren to Art Museum. To their pleasant surprise, they received a thank-you letter from the then director of Art Museum Professor Lam Yip-keung, who enclosed a two-page annotation based on his scholarly research on the background of Zhou's letter.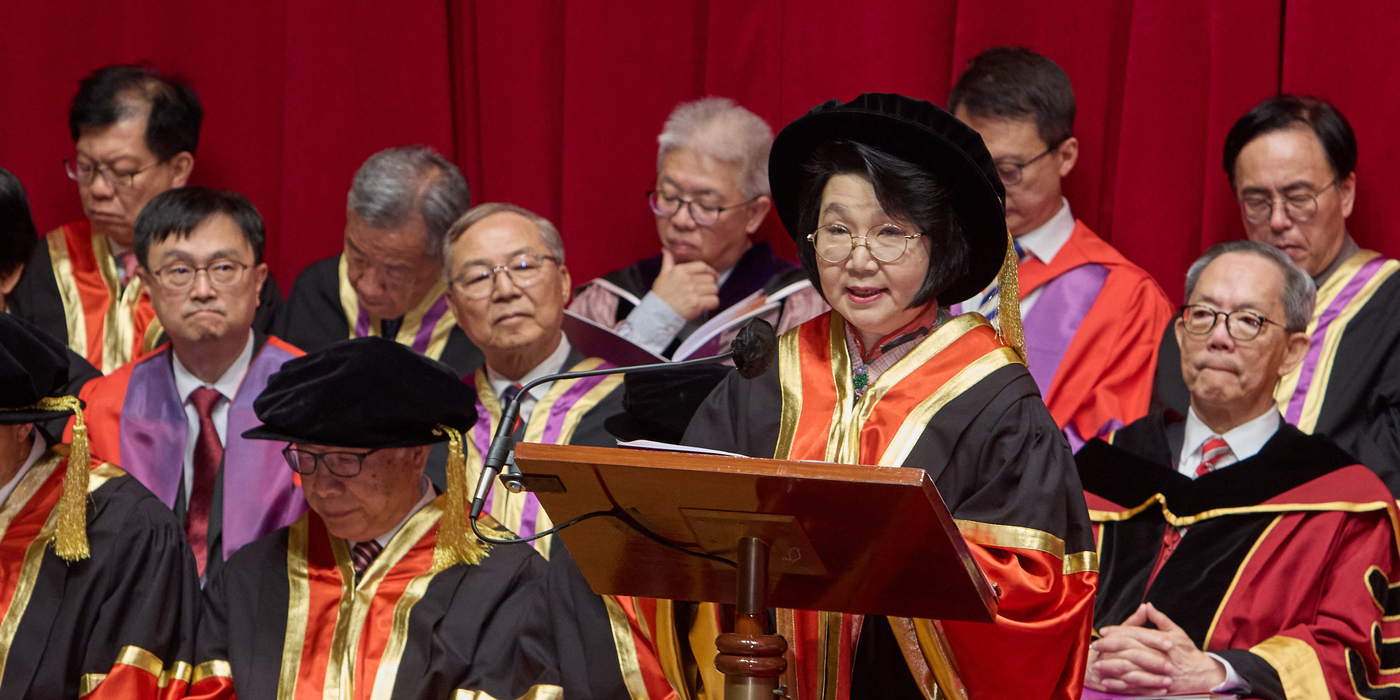 "CUHK has made stellar achievements in both innovation and technology in recent years, but the University has at the same time respected and treasured the time-honoured Chinese culture and history, and placed great emphasis on promoting its strength in the humanities," she said.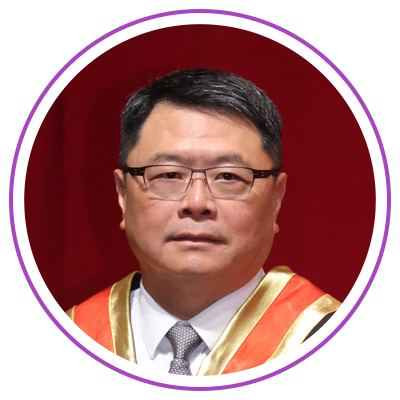 Sunny Chai Ngai-chiu
Dr Sunny Chai Ngai-chiu, industrialist and managing director of Fook Tin Group Holdings Limited, has served as chairman of Hong Kong Science and Technology Parks Corporation and Federation of Hong Kong Industries since 2018 and 2021 respectively. Taking the helm of family business more than three decades ago, he has since developed it from a small lighting and general merchandise factory into the world's leading manufacturer of scales, by which he is dubbed the "king of scales". Through numerous overseas acquisitions in the 1990s, he mastered cutting-edge scale manufacturing technologies and from that developed an impressive range of medical, industrial and automotive scales. In 2004, he received the Young Industrialist Award of Hong Kong. Dedicated to serving the community, Dr Chai has taken on a range of public service roles, including member of the CPPCC National Committee, member of the Chief Executive's Council of Advisers, and advisory board member of the University's Faculty of Engineering.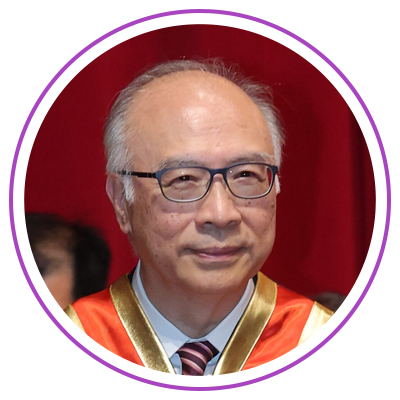 Jack Cheng Chun-yiu
Professor Jack Cheng Chun-yiu is an eminent specialist in children's orthopaedics. Since joining CUHK in 1983, he has made significant contributions to the University and the Faculty of Medicine by serving as chairman of the Department of Orthopaedics and Traumatology, associate dean of the Faculty of Medicine (Education), University Dean of Students and Pro-Vice-Chancellor, while joining several major University policy committees. Professor Cheng was also a member of the University Grants Committee from 2008 to 2013 and the Research Grants Council from 2014 to 2016, and a former director of the Joint Planning Office of CUHK-Shenzhen's School of Medicine, and the School's senior adviser. Publishing widely in the field, the emeritus professor serves on the editorial boards of a number of international journals. He is former president of the Hong Kong Orthopaedic Association, and a fellow and member of over 20 local and international professional and medical organisations, including the International Pediatric Orthopaedic Think Tank, where he was one of the two Asian members in its 1998 session.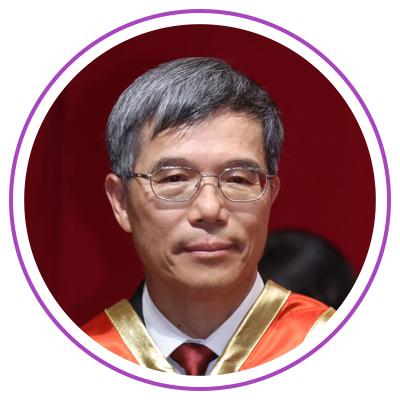 Stewart Cheng Kam-chiu
Stewart Cheng Kam-chiu is chairman and executive director of New Times Energy Corporation Limited, and managing director of Cheung Hung Development (Holdings) Limited. An engineer with extensive experience in property development and construction management, he has taken a proactive role in crafting the urbanscapes of Hong Kong and his hometown Shunde. Inheriting his father's charitable spirit, Cheng has supported social welfare causes in both cities throughout the years, by which he became an honorary citizen of Shunde. In 2011, he joined the Board of Trustees of Shaw College and subsequently became the board's second vice-chairman. Over the years, Cheng has donated or pledged to donate over HK$14 million to Shaw College and the University in support of education and breast cancer research. He is also a member of the University Campus Planning and Building Committee, where he offers invaluable advice to the University.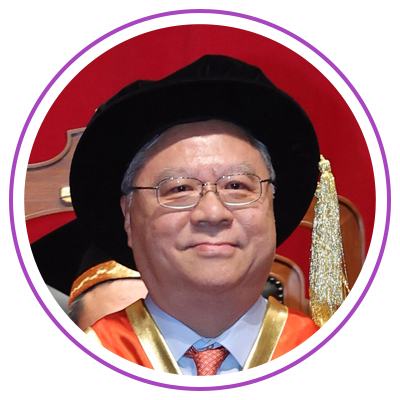 Joseph Cheung Wang-ngai
Joseph Cheung Wang-ngai graduated from the business administration programme of CUHK in 1979 and subsequently pursued legal studies at the London School of Economics and Political Science. He had been a partner of law firm Messrs C Y Kwan & Co for almost 20 years before founding asset management company Oasis Investment Management. He is now Oasis's CEO, legal consultant to a law firm as well as founder and director of iIDEAS, a biotech company specialising in innovative AI and robotic medical devices. Cheung is qualified professionally in law, accounting, and finance in a raft of jurisdictions. He has served on several public and government committees, including the HKSAR Passports Appeal Board and the Inland Revenue Board of Review and Users' Committee. Cheung has been a staunch supporter of United College and Faculty of Law at CUHK, making generous donations to causes including academic research, exchange scholarships, student activities, mentorship programmes, and academic staff research awards. He is member of the Board of Trustees of United College and the Advisory Board of Faculty of Law.
Janice Choi
Janice Choi is adviser and legal director of Sunwah Group, consultant for a law firm and non-executive director of Sunwah Kingsway Capital Holdings Limited. She is passionate about music and spares no effort in nurturing local musical performers and creative talents. In 2002, she was appointed member of the General Committee of the Hong Kong Philharmonic Society and served as its honorary legal adviser. She has been vice-chairperson of the Society since 2014 and is the longest-serving member of its board. Choi has held several public positions, including chairperson of the Hong Kong Development Council's Appeals Tribunal Panel (Buildings), vice-president of Hong Kong Girl Guides Association, vice-patron of the Community Chest and adviser to its Flag Day. She was awarded the Chevalier de l'Ordre des Arts et des Lettres by the French government and a Bronze Bauhinia Star by the Hong Kong government in 2019. Choi and her family have been long-term supporters and benefactors of CUHK. Currently a trustee of United College, Choi and her husband, Dr Jonathan Choi, contributed HK$50 million from the CKY Education Charitable Trust and the Choi Koon Shum Education Foundation Limited, enabling the College to build a new student hostel.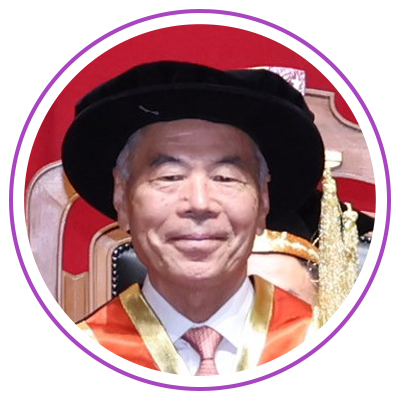 Takanori Kitamura
Professor Takanori Kitamura is a veteran diplomat who worked for the Ministry of Foreign Affairs of Japan for nearly four decades and was awarded the Order of the Sacred Treasure, Gold Rays with Neck Ribbon in 2021. He was appointed Consul-General to Hong Kong in 2004. During his stay in the city, Professor Kitamura pushed for the establishment of a scholarship scheme for Japanese students to enrol on the MBA programme at CUHK. From 2010 to 2015, he served as senior research fellow of the University's Hong Kong Institute of Asia-Pacific Studies and professor by courtesy of the Department of Japanese Studies, and has remained with the latter as adjunct professor since 2015. To celebrate the 20th anniversary of the Department in 2012, the diplomat-teacher procured 20 cherry trees from Japan and donated them to New Asia College for planting on campus. The beautiful trees have since become an iconic spectacle for University members and visitors. Professor Kitamura provided seed funding to establish the Research Centre for Comparative Japanese Studies at the University and serves as its honorary director. He also facilitated an annual two-way academic and cultural exchange programme for students of CUHK and Saga University from 2015 to 2020.