An 'incident' between a donor and a curator
The decades-long encounters between Janice Choi and CUHK's Art Museum
"An Incident" (《一件小事》) is a short story written by Lu Xun (the literary pseudonym of Zhou Shuren), arguably the leading figure of modern Chinese literature whose work has become almost synonymous with the birth of the modern Chinese consciousness. Janice Choi and her family have had a relationship with CUHK spanning three decades, but there is one incident with the University that left a special mark on her.
In October 1998, Choi and her husband, Dr Jonathan Choi Koon-shum, purchased through Sotheby's Hong Kong auction a letter hand-written in 1961 by late Chinese essayist Zhou Zuoren, the younger brother of Zhou Shuren, to his friend Gao Boyu in Hong Kong. Ten years later, the couple donated the letter to the CUHK Art Museum. To their pleasant surprise, they received a thank-you letter from Professor Peter Lam Yip-keung, the then Director of the Art Museum, shortly after the donation. Attached to the thank-you letter was a two-page annotation, which was crafted basing on Professor Lam's scholarly research on the background of the prominent writer's letter, citing also the relevant incidents in 1961 as quoted from the book The Diary of Zhou Zuoren. In a letter which would otherwise be a little more than a few hundred words, Lam's annotation brought context, nuance and detail and helped bring Zhou's words to life.
On May 29, CUHK held its 21st Honorary Fellowship Presentation Ceremony, during which Mrs Choi and five other distinguished people were appointed honorary fellows in recognition of their exceptional achievements within their professions and their outstanding contributions to the University and the wider community. Delivering her acceptance speech on behalf of the other honorary fellows, she highlighted the moving episode in 2008. "We were very touched by Professor Lam's intense earnestness in dealing with this donation because his was not just an ordinary thank-you letter. The meticulous study of the background of Zhou's letter speaks volumes about the importance CUHK has always attached to Chinese culture and history. The University did not just see the letter as just a donation," Choi said.
"Fifteen years on, I have forgotten how much we spent on buying Zhou's letter but I still have an indelible memory of the University's respect for Chinese culture and tradition. Recent years have seen CUHK make stellar achievements in both innovation and technology, but the University has at the same time respected and treasured the time-honoured Chinese culture and history and placed great emphasis on promoting its strength in the humanities," she said. Many long-serving CUHK staff who were present at the ceremony were deeply touched by her recollection.
A day after the event, Janice Choi met with Professor Lam at Cheng Xuan, the VIP room of CUHK's Institute of Chinese Studies (ICS). It was the first time the donor and the former director of Art Museum had met. Professor Lam, who joined the Art Museum in 1973, retired from the University in 2013 and is currently Honorary Research Fellow of the ICS.
In an interview with CUHK in Focus, both Choi and Professor Lam agreed that what mattered was not the market value of Zhou's letter, and that "there was something that money can't buy". Expressing gratitude to the generous donation by Choi and her husband 15 years ago, Professor Lam said it enriched the Art Museum's collection of works of modern Chinese writers.
"I started having an interest in Zhou Zuoren's prose in secondary school. His prose was enjoyable with its delicate descriptions. And his style wasn't as caustic as his brother Lu Xun's.
Professor Lam noticed that the recipient of Zhou's letter was anecdote compiler Gao Boyu, who was familiar with late CUHK Honorary Professor Jao Tsung-I, a world-renowned scholar with remarkable achievements in Chinese and Oriental Studies. "After I got the two-page letter in 2008, I spent a couple of days checking out Zhou's annals and diaries," Professor Lam said.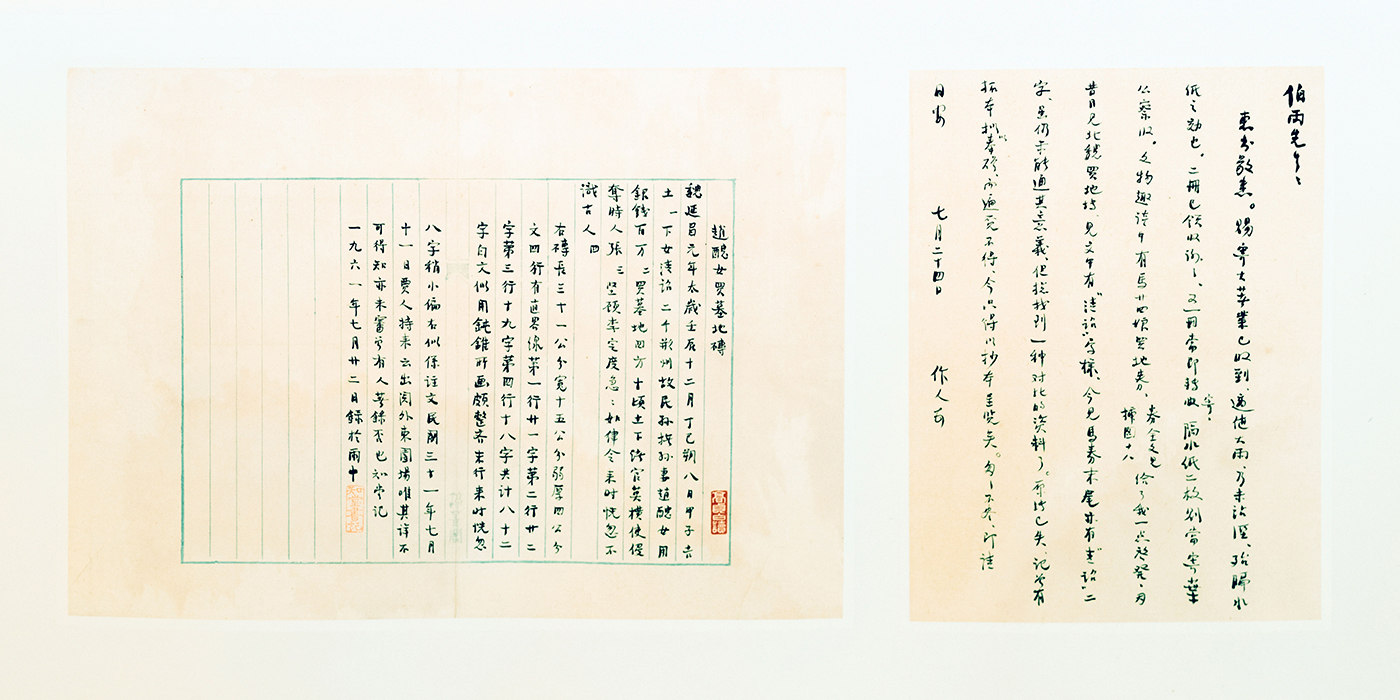 "I have both Zhou's annals and Gao's works in my collection. When I compared them with the letter's contents, I thought there was a story to tell," he told Choi. "I wrote out the letter's contextual background, and asked you for insights." He penned a two-page annotation detailing the background of an anecdote in the Northern Wei Dynasty (386 to 535 CE) mentioned in Zhou's letter.
Shortly after Choi mentioned the 2008 episode in her speech at the ceremony, Professor Lam reexamined the materials and thought his evidence back then was "a bit thin". "I then wrote a second part, adding another sheet to the original two," said the professor, handing in the supplementary annotation to the generous donor. His conscientiousness is testament to the meticulous and enterprising attitude of CUHK academics, the driving force behind the University growing from strength to strength in since its establishment six decades ago.
Choi said she saw the spirit of the academic in Professor Lam: "With your knowledge of Zhou's life and works and the person he was writing to, this was a wonderful coincidence. It (Zhou's letter) wasn't anything huge, but I think I have found a suitable home for it." Noting that local universities are putting more effort into promoting research on innovation and technology, she said institutions still needed to have a better understanding of Chinese culture. Professor Lam said Choi's views were in line with CUHK's mission "to combine tradition with modernity, and to bring together China and the West".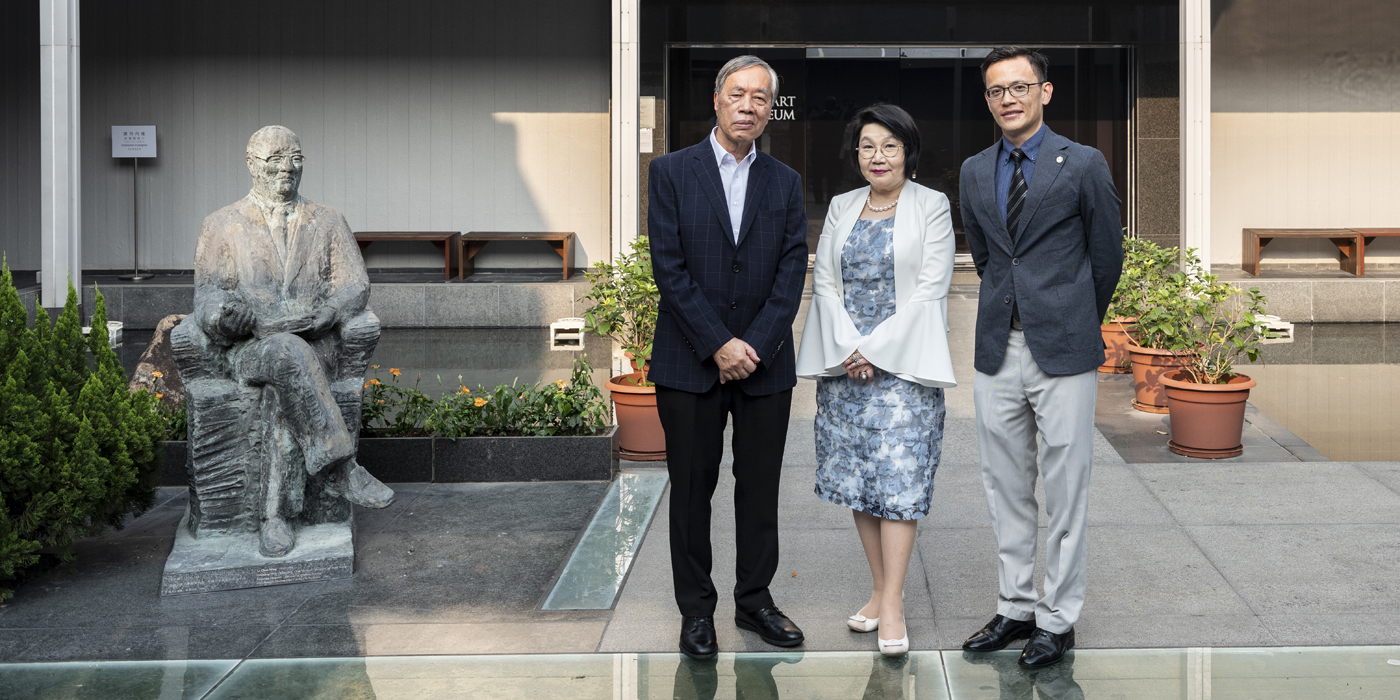 "The Art Museum has a collection of more than 16,000 items. Before I retired (in 2013), we were only allocated HK $200,000 a year to buy antiques and artefacts. That's not even enough for old-version books. So our collection is all down to donations," Professor Lam said.
Choi said she was compiling catalogues of her family's collection of artefacts, paintings and calligraphy for donations to museums in the city for public appreciation. "Given its professionalism, CUHK Art Museum is high on the list of targets for our future donations," she said.
By Gary Cheung
Photo by LCT